Upcycling old clothes is a creative, fun, and money-saving way to turn old clothes into something new and fashionable. So rather than tossing your old clothes and spending on new fashions, why not upcycle your own? This way, you can help the environment, develop your creativity, and create new upcycled clothes that stand out and show your personality. 
Upcycling can seem complicated, especially if you haven't tried it out. You might be worried that you don't have any sewing skills or ideas for refashioning your old clothing. Well, worry no more; with this blog, you'll find an easy way to upcycle old clothes through patches.
Here at LaughingLizards.com, we found some simple ways to add new life to your old clothing, and yes, it is through embroidered patches. With patches, you can quickly turn your one-colored cloth into a multi-colored cloth no matter what you want to upcycle. Upcycling is perfect for everything, from jeans to shirts, dresses, hats, jackets, and more. Applying patches is easy. Simply sew, iron, or glue the patches on your old clothes.
Ways to Upcycle Old Clothes
One of the most popular clothes used for patching is denim. Denim and patches are always perfect, from jackets and vests to skinny jeans and other denim apparel. Embroidered patches may be sewn, ironed, or glued on jackets, jeans, placed on jacket sleeves, or used as knee patches for your kids' denim. Customized denim is timeless and has become more and more popular over the years. Adding patches to your old jacket will transform it from old and worn to fresh and new. Try adding patches that say something about your personality or interests like sports, hobbies, bands, brands, and more, and you'll be amazed at the result.
Leather and patches go together. If you want an 80s inspired punk rock look or a rider's vibe to your old leather jackets, you can add embroidered patches to achieve your desired look. The best way to add patches on leather clothes is by using fabric glue. Click here for more detailed instructions on how to attach patches on leather jackets.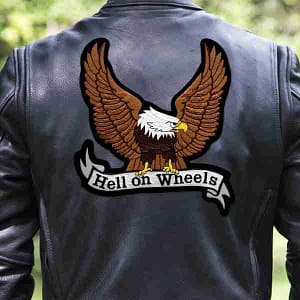 For a more stylish look, add embroidered patches to your old shirts. Patched shirts are always popular and never go out of style. Iron on patches is easy to apply so that you can take your favorite t-shirt to the next level effortlessly. Get creative and add a touch of color and character to your wardrobe.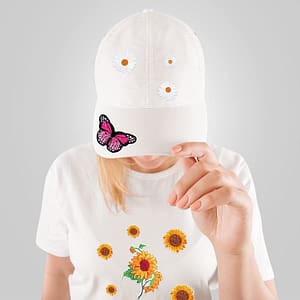 Add color to your old clothes by adding colorful embroidered patches. Large or small patches can bring a new life to your old clothes. Apply patches to any area of your clothing for a pop of color and texture.
Here at LaughingLizards.com, we have a variety of patches that will suit your patching needs. We have all sorts of patches, including sports, patriotic, flowers, kid's patches, business, awareness patches, and so much more. We have years of experience and talented artists that make colorful and attractive patch designs. So order now and have fun upcycling your old clothes.