Looking for ideas to revamp your old jeans to look as new and cuter than before? Well, get inspiration from our decorating old denim jeans with embroidered iron on patches ideas.  
With embroidered iron-on patches, you can easily upcycle your old jeans and turn them into something new that fits your personality.
1. Vintage Denim Jeans with Patches
Posted on the net, this tennis court swag looks so cool. So take what you can get because the placement of those patches and the holes in the jeans is something else. Patch projects are easy and affordable, so get your vintage jeans and start to DIY and turn them into cool jeans.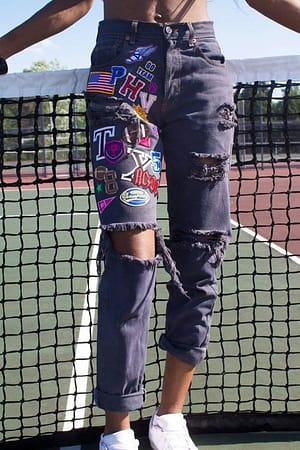 2. Out of this World Galaxy Jeans
This classic skater cut jean with embroidered star patches is so unique and easy to make. Simply iron or sew (if you want a more durable placement) embroidered star iron-on patches into your high-waisted jeans.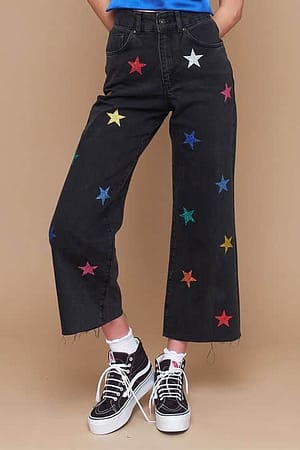 3. Ragged Priest Longline Denim Boyfriend Shorts with Mermaid Patches
Upcycle your old denim jeans into cute denim shorts like this Ragged Priest Longline Denim Boyfriend Shorts with patches. Simply cut old denim jeans and decorate them with your favorite patches to achieve this look.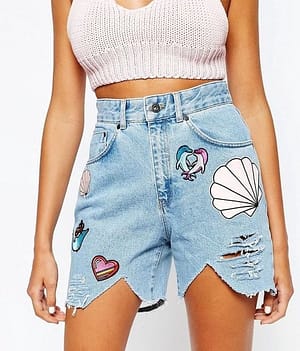 4. Floral Patched Jeans
Flower embroidered iron-on patches can transform your boring pair of jeans into cute patched jeans ready for summer, whether you choose one flower design or a variety of flower designs to create something beautiful. This will surely make upcycling jeans fun and creative.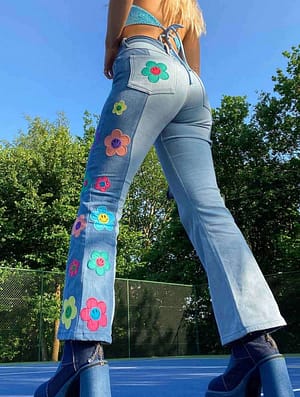 5. Funny Patched Jeans for Kids
Go freehand and use your creativity. Alter a basic pair of jeans into a funny pair for your kids by adding funny embroidered iron-on patches. Aside from recycling old jeans, patches also work great for hiding tears and damages to your kid's jeans. If you're looking for inspiration, try ironing or sewing monster mouths, monkeys, or other patches on the knee area of your kid's jeans. 
6. Hippie Bell Bottom Jeans
Are you looking for upcycling your old jeans ideas? Check out this hippie bell bottom jeans, bring out your vintage jeans, and turn them into a groovy 60s and 70s-inspired look. A tip for a more secure patch is to iron or glue the patches into your jeans first. Then hand sew each patch for a more secure patch work.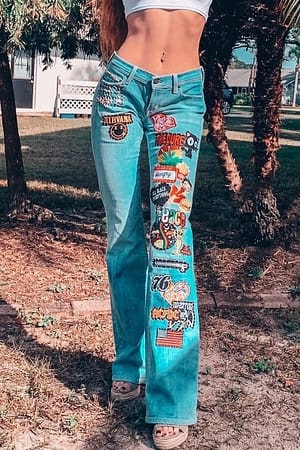 7. Urban Look Chic Jeans
Create an urban look with chic jeans with your denim jeans using embroidered iron-on patches. This design looks not only very casual with sneakers, but also chic and sophisticated when paired with high-heeled sandals and a blazer. Perfect for a casual day with friends or as a late-night date outfit.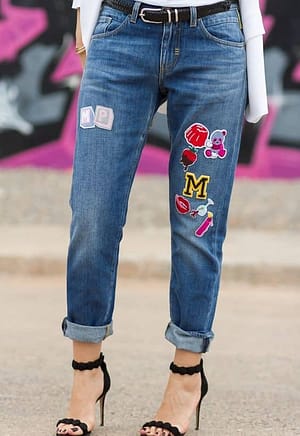 8. Kiss my Patch Jeans
Uploaded by Ariel on Pinterest, this patched denim jean is unique and fun! Get inspired by how to upcycle your old jeans into something special that expresses your thoughts and shows your personality.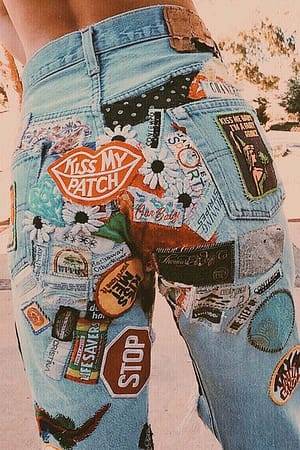 9.
DIY DKNY Patch Jeans
Get creative by making your own patched jeans. This DIY patched DKNY jeans are a result of a very creative mind. Missfit101 used her patches collection to create patched jeans with special meaning to her.

10. Patched Distressed Jeans
If you want to cover up the holes in your jeans but still want to keep the distressed look, get ideas from the jeans above. Patched the holes in your jeans before it gets too big. Embroidered patches will make your jeans prettier and make your outfit stand out.