Halloween is coming up soon, which means it's time for tricks and treats, candies, chocolates, and costumes! Costumes make Halloween more fun, but the prices of those store-bought costumes can be scary sometimes. That's why finding the perfect outfit can be challenging, and a do-it-yourself Halloween costume can be a great idea. However, looking for accessories to complete the Halloween costume can be daunting.
Well, worry no more! With some imagination, you can have a perfect Halloween costume that costs very little, and the accessories to complete your DIY costume are not hard to find. You have lots of options if you just use your imagination and creativity. One of these options is the use of Halloween embroidered iron-on patches. Halloween iron-on patches are easy to use and a cheap way to make any costume more realistic. 
Why Use Embroidered Iron on Patches for Halloween?
Embroidered iron-on patches are extremely versatile. You can use patches alone or use them with other materials to make your Halloween custom unique. With iron-on patches, you can create a Halloween costume that costs very little based on your favorite book or movie character or dress up like a famous person. A few patches can make a difference to your DIY Halloween costume. We are sharing some patches to make your DIY Halloween costume more realistic.
Here is our Halloween iron-on patch that can transform your costumes into anything
Easy DIY Halloween Costumes
You don't need to spend much money on your and your kid's Halloween costume. Homemade Halloween costumes are fun, cheap, creative, and can be made from items you already have at home. Here are our ideas for easy DIY Halloween costumes for you and your kids.
Cute Halloween Hair Clips
These patched Halloween pins are so cute and easy to make. All you need are Halloween patches, a hot glue gun, and some hair clips or brooch pins. Hot glue the patches to the hair clips using a glue gun (always supervise kids using the glue gun as it uses electricity and heat). Let it dry, and there it is; you have your Halloween pins.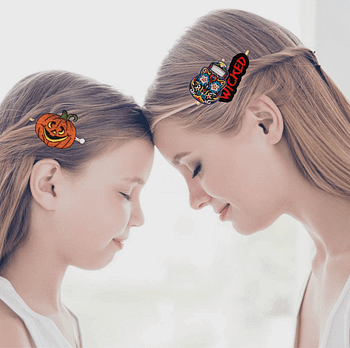 DIY Patch Halloween Garland
Garlands can be used to decorate rooms, windows, walls, or even outdoors, and they are very easy to make. All you need are strings, hot glue, an old shirt or cloth, and some Halloween patches. Simply cut the cloth to sizes that are smaller than the patches, put the string between the patch and the cloth, and secure it with glue. Repeat the same process until you achieve your desired length. Let it dry and hang it on your wall, door, or window.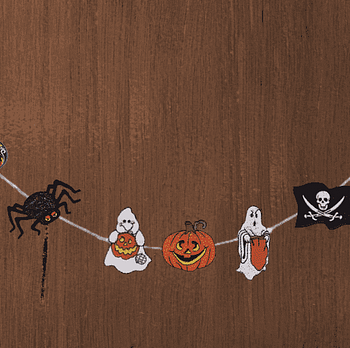 Halloween Pins 
Halloween pins are one of the easiest craft you can do this treat or trick season. Pins are everywhere and never go out of style, so creating easy DIY patch pins to decorate your bag, costume, or shirt is a fun idea. DIY patch Halloween pins are easy to make and will be a great party favor.
Materials you need to make a patch pin:
Halloween Patches
Pins
Hot Glue
To make Halloween pins, just hot glue your patch choice to the pins. Use a small piece of cloth at the back to secure the patch pins.
Halloween Paper Lantern 
Halloween paper lanterns are another great craft that your kids can create this Halloween. Paper lanterns are the perfect decoration for Halloween and an enjoyable kid craft.
Materials needed to make Halloween paper lanterns:
8 1/2 x 11 inch paper in orange, white or black
Stapler
Glue
Scissors
Ruler
Instructions:
Start making the lantern by folding a sheet of paper lengthwise (hotdog style) and starting on the folded edge, draw lines spacing about an inch apart. Leave ½ inch free space near the adjacent border.

Cut the lines starting on the fold. Make sure to stop ½ inch before reaching the edge.

Unfold the lantern and take one end and wrap around. Staple or glue the top and bottom of the lantern.

For the handle: cut a piece of paper 1 inch wide and 10 inches long and staple on the lantern's top.

Decorate the lantern with Halloween patches.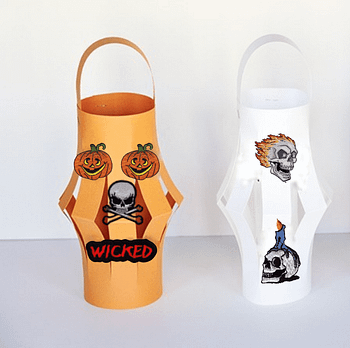 Halloween Pillows 
Halloween pillows are the perfect decoration for Halloween. They can fit perfectly with any house decorations, and they are cozy. They are perfect for the couch or bed, and you can hug them while watching your favorite spooky Halloween movie. To make a Halloween pillow, you can buy or DIY an orange pillowcase. Decorate with Halloween patches and use it on your old pillows.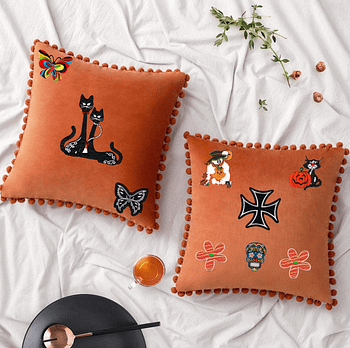 No-Sew Pirate Costume
 With a simple white shirt, black pants, old red cloth, or shirt (for bandanna) and some finishing touches, you can create a costume for your little pirate. 
Here's what you need to create this costume:
Check your kid's closet and look for a white long sleeve shirt, black pants, shoes, and an old red t-shirt.

Cut the old red shirt to make a red bandanna and red belt.

 For the bandanna, cut a triangle shape on the shirt's front and make the backside a red belt by cutting it into a long straight pattern.

Decorate the red bandanna with a skull patch.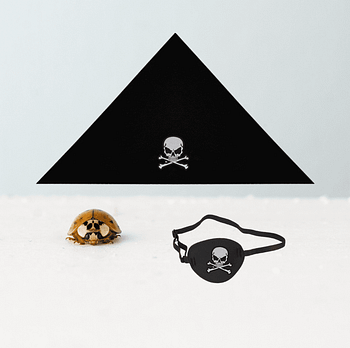 Halloween Superman
Do you want to be superman, but wearing tights is holding you back? Iron our extra-large superman patch on an undershirt and wear office attire with your button-down business shirt opened up to reveal your big patch Superman patch!
We have small and extra-large superman patches for your costume! Check out this superman patch on our collection and have fun creating your superman Halloween costume.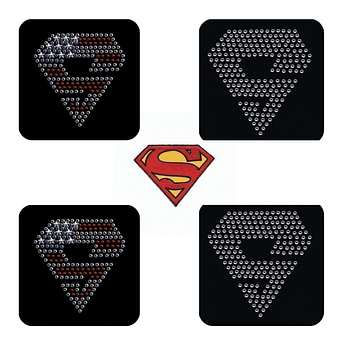 Happy Halloween! Thank you for reading our easy Halloween patch craft for kids. Subscribe to our mailing lists for more craft ideas. You're welcome to show your Halloween DIY in the comment section below.