The first things we think of when it comes to patches are jackets. This is because colorful patches are often seen on the back of a rider's jacket that indicated membership in a club. But what if you're not a member of any motorcycle clubs, can you wear a patched jacket too? Of course, you can! Patched leather or denim jackets are for everyone. Read on our guide on how to use patches on jackets to make sure that your jacket is perfectly patched.
Patches are so versatile everyone, young and old, can wear them. Aside from an attractive fashion statement, patches are also a great way of expressing your personality, displaying membership to a group, making a statement, and so much more. They are a stylish addition to any garment, that you can be customize or personalize to what you want it to be. They are a popular way to decorate your wardrobe, especially in jackets.
Motorcycle Jacket
Motorcycle clubs have more strict requirements when it comes to wearing a patched motorcycle jacket. These motorcycle club patches are mostly earned instead, so it may take some commitment of time and energy to receive one. 
Most motorcycle club patches are custom made. These clubs often wear a classic three-piece patch design on their jackets. The top panel, also called the "rocker," shows the name of the club with a large centerpiece patch that displays the club emblem. The bottom rocker provides the club's home area where you can see the "MC" letters. 
For ordering custom motorcycle club patches, it is important to think about the jacket's size and how big the custom patch is. Here at Laughing Lizards, we create high-quality custom made motorcycle club patches. We make our patches with the highest quality materials that will last for a long time. Ordering custom made patches for your motorcycle club is so easy. You just need to follow these few simple steps.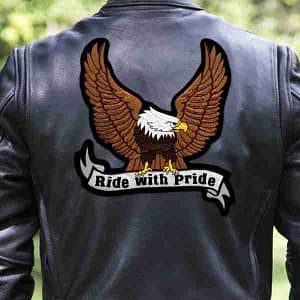 Riding Clubs Jacket
The difference between a riding club and a motorcycle club is that riding clubs are generally an organization of people who enjoy riding. Riding clubs have few membership requirements and easy to join. They are mostly focused on owners of specific bikes or for members who live in one particular area.
Riding clubs patches can be purchased custom made for jackets. These patches usually have a larger center emblem and sometimes a top rocker. The bottom rocker is not recommended in riding clubs as some motorcycle clubs are territorial, and a bottom rocker could cause confusion. 
One of the most important rules for non-motorcycle club members is never to pretend that you're a member of a club. It is much better to be who you are and follow the proper patch etiquette for jackets. Don't wear motorcycle club patches if you're not a member of a motorcycle club.
Our Recommended Riding Patches
Battle Jacket
A battle jacket, also known as a battle vest, is traditionally a denim vest decorated with patches, studs, and other decors. Battle jackets are usually associated with punk and metal subcultures. Before attaching patches to your battle jacket, it is a good idea to develop a strong battle concept first. Think about what is important to you. Which areas do you want to cover, or do you want to cover every square inch of your vest in patches? A good base start is to start your concept with a large back patch and build around it. 
Since authenticity is important in battle jackets, make sure you are buying patches for bands you are familiar with, not just because some are wearing their jackets.
Band Patches For Battle Jacket
Not a club member?
Patched Jackets are for everyone. These days, you can often see patches on the back of nearly any jacket. You can still wear patched jackets and show your personality, even if you're not a member of any clubs. Just follow the rule, don't wear a club patch if you're not a member. There are lots of beautifully designed iron-on patches for jackets in this world. You can choose any design that you want. You can even have your custom-designed patch for your own jacket.
We have a wide selection of patches that showcase your personality and individuality. You can wear a flag patch, name patch, statement patch, funny patch, or any patch you want. You can place these patches anywhere on your jacket. 
Patches are often exposed to heat, rain, wind, and other factors that can wear them down. We make our patches with a sturdy backing twill that will last long like the jacket they are attached to as long as they are applied correctly.
Our Recommended Patches For Jackets
Picking The Right Patch For Your Jacket
In picking the right patch for your jackets, there are few things that you need to consider. First, the right patch will take your jacket to a new level. Second, the right patch will let your personality come to life while adding a unique aesthetic. 
If you're planning on using an American patch on your jacket, there are a few things that you need to note in wearing American patches to avoid disrespect or faux pas.
How To Attach Patch To Jackets
Take note that you can apply iron-on patches by ironing, sewing, or using fabric glue. It depends on the material of your jacket. It is best to sew patches on a leather jacket to avoid ruining your jacket because leather might burn if pressed with a hot iron. 
This DIY patched leather jacket tutorial shows the fast and easy way of attaching patches on a leather jacket.
For hand sewing iron-on patches on your favorite denim jacket, this video of Anastasia is helpful as it shows the entire process of sewing patches on a denim jacket, from threading the needle to the last cut.
Do you like metal music? Do you want to design your own battle jacket and attach your favorite metal band's patches? Watch and learn the dark side of attaching patches to a battle jacket using a sewing machine in this video tutorial.