Everybody loves Christmas. Nothing makes Christmas more special than DIY-ing your Christmas decorations with so much happening to the world around us. Doing DIYs will not only make your Christmas personal and meaningful, but it is also a great way of calming any anxieties that you and your family are experiencing this difficult time. Mental health experts say that picking up an old craft delving into a new one is a positive way to get through stress and anxiety.
DIY-ing your Christmas decorations also shows how much you care about the Christmas decorations of your home and the people you give gifts to. Here is some easy DIY Iron on Patch Christmas decoration ideas that you can make with your kids at home.
Patched Table Runner And Table Napkin
Even if there won't be large Christmas gatherings this year, you can still have the best Christmas by preparing a festive dinner and decorate your table in a "Merry Christmas" manner. Table runners and table napkins can be a fancy and fun way to add a festive touch to your table setting. Table runners and napkins decorated with Christmas iron-on patches can turn your old table runners and napkins into a work of art. It will dazzle your family for sure and make your dinner extra special.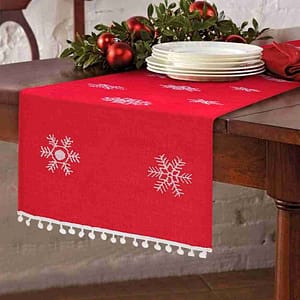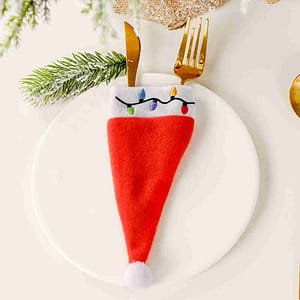 Table runner and table napkin decorating ideas:
You can purchase a plain colored Christmas table runner and napkin and iron-on the Christmas patches that your kids selected. If you don't want to spend too much, you can use your old table runner and napkin and iron or sew the Christmas patches for a festive look. You can use our sequined poinsettia, winter snowflake, Christmas lights, or Christmas wreath in your table decorations. We have lots of Christmas patches to choose from. I'm sure your kids will enjoy selecting Christmas patches and ironing them on the table runner and napkin with your supervision. 
DIY Patched Christmas Cards
Due to the pandemic, Christmas will be different this year. Families who usually gather to celebrate together will skip the festivities and do a long distance celebration instead, via video chat. Add a little extra something to your holiday by sending DIY Christmas cards to everyone. Sending something with a personal touch will surely make everyone feel better and more connected to each other.
DIY Christmas cards are a simple and inexpensive way to spread a little joy and cheer to everyone this holiday season. What's great is kids can do these DIY easily even if they haven't tried DIY crafts before. 
DIY patched christmas card ideas:
DIY Christmas cards are so simple and inexpensive to make. Most of the materials are readily available around the house already, like papers or cardboards, colored pencils or pens, glue, and your Christmas patches, of course! Let your kids choose the patches they want to use to make their creative minds work. Gather your materials and let them write a short note on the cards or paper and glue the patches. There it is, you have your personalized Christmas cards.
As easy the DIY-ing is, you can be sure that the recipients appreciate every effort you've all made in making these Christmas cards.
Patched Christmas Stockings
Christmas decorations won't be complete without stockings hung by the stairs or chimney. Making DIY Christmas stockings or decorating plain stockings with iron-on patches is a great way to personalize this special tradition. These personalized Christmas stockings will not only save you money, but the kids will love decorating their stockings. Once they've got their own Christmas stocking, don't miss out tucking their gifts inside.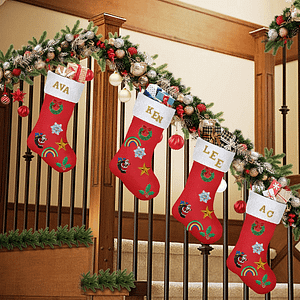 Patched Christmas stocking decorating ideas:
Decorating Christmas stocking can be fun. You have an option to buy a plain colored stocking and decorate with iron-on patches, but if you want to start from scratch, you can follow this fleece Christmas stocking tutorial. Then you can use our iron-on letter patches to represent family members' names. We also have a wide selection of Christmas iron-on patches that are perfect for decorating your DIY Christmas stocking.
Felt Christmas Tree
DIY felt Christmas trees are a perfect Christmas activity for your kids this holiday season. Give your kids a Christmas tree that they can decorate as they please. 
Felt Christmas tree Instructions:
Materials: 
1.5 yards green felt
Colored felt (smaller sizes)
Scissors
Chalk 
Hot glue gun + glue
Christmas iron-on patches
Instructions:
To make a Christmas tree, fold the green felt in half with the smoother and shinier side on the outside. Freehand half of the tree with a chalk, and with it still folded, cut it out, so it's symmetrical.

After cutting out the tree, you can decide your tree's height by trimming on the bottom section.

Mount the felt Christmas tree on the wall using Command Brand strips.

To make gifts measure and cut out squares and rectangles on the colored felt and cut them out. Cut strips of felt to make ribbons and bows.

Glue the gifts on the lower part of the tree and glue different Christmas iron-on patches designs to decorate the tree.
Patched Christmas Face Mask
Since we're still in the middle of a pandemic, a face mask is a must this holiday season. Have fun and enjoy celebrating the Christmas holiday with your family while protecting them by wearing a Christmas themed cloth face mask.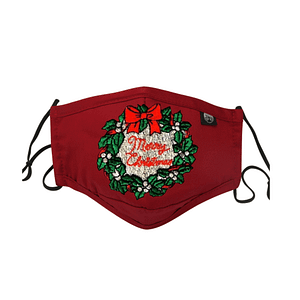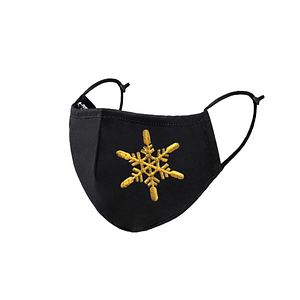 Patched Christmas face mask ideas:
Personalizing your face mask this holiday season is so simple. You can purchase plain colored face masks and iron-on our cute Christmas Iron-on patches. You can also do DIY by starting from scratch. Sew your face mask with this tutorial and iron-on your Christmas patches. 
Iron-on Patch Christmas Tree Ornaments
When it comes to decorating your festive Christmas tree, DIY Christmas ornaments are the best way to ensure that your tree is full of heart and holiday cheer. DIY Christmas tree ornaments are the fun and affordable way to add a personal touch to your Christmas tree. Just use glue, Christmas patches, and kitchen twine or yarn to make your own DIY Christmas tree ornaments. You can mix these homemade ornaments with your store-bought finds and some old ones to make your Christmas tree festive this year.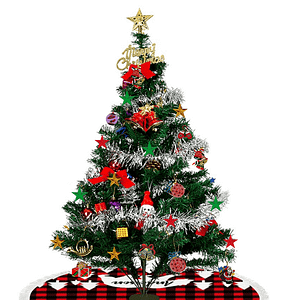 Iron-on patch Christmas tree ornaments ideas:
Our recommended Christmas iron-on patches that will be perfect ornaments for your Christmas tree are Christmas Snowflakes (assorted colors), Christmas Wreath, Star Patches, Christmas Holiday Presents, Red Hat Christmas, Christmas Ornament with Sequins. 
Instructions:
Use two pcs of patch on each design.

Turn the pieces from each patch around and place a twine or yarn for hanging in-between the two patches. Glue the patches together.