Do you have a pair of shoes that need updating?
The good news is, you can turn your boring old shoes into something creative and exciting with patches!
Shoes provide an excellent surface where you can apply patches with very little effort. With patches, you can customize your shoes in a way that will look like you paid a fortune. Updating your boring old shoes does not require to be expensive. Sometimes you just have to be creative. 
So if you're tired of your old shoes, try updating them with patches. They are not only cheap but fun and very simple to do. Below are some DIY shoe makeovers ideas that use patches.
1. DIY Embellished Shoes With Embroidered Patches
These DIY embellished shoes with embroidered patches are perfect for any occasion. The classic embroidered rose patches perfectly matched the Gucci-inspired effect. All you need to turn your shoes into something interesting that matches your styles are shoes, embroidered patches, and fabric glue. The process is simple, but the results are amazing.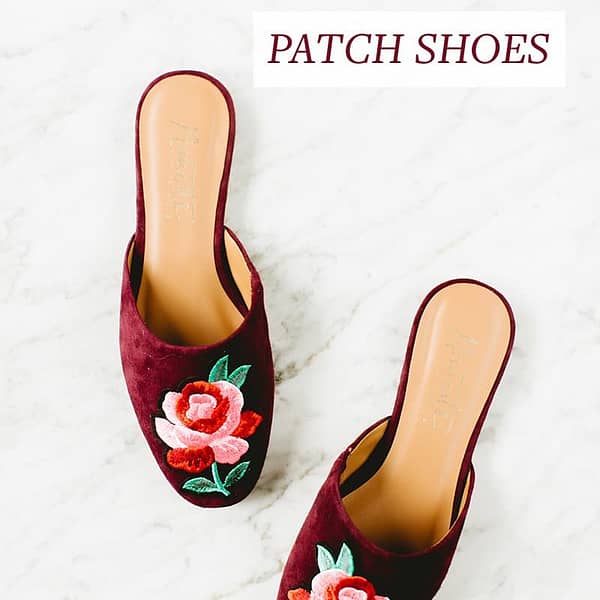 Photo Credit:  Meghan Klein
2. DIY Patch Patterned Sneakers
You'll surely love these super cute DIY patch patterned sneakers. This is an easy project that your kids will like because the result is so amazing. 
What you need for this project is:
Sneakers

Fabric glue
Embroidered patches
Rainbow or colorful shoelaces (optional)
Here's how to apply patches in sneakers:
Make sure your sneakers are clean from dust or dirt.

Figure out the placement of your patches.

Once you've figured out where you want to put them, apply fabric glue at the back of the patches and stick them in place. Hold down for a few minutes to ensure it sticks to the sneakers. 

Wait for the glue to dry out completely before wearing them. For more colorful sneakers, use rainbow or colored laces.
3
.
Easy DIY Patchgame Sneakers
If you like patches and pins and have a bunch of them lying around? Why not do some creative DIY by turning your old pair of boring sneakers into colorful, cute, and fun. 
In these super cute DIY patched sneakers, two pastel-colored sneakers were transformed into attractive and colorful patched sneakers that matched the owner's personality. 
Here are some tips on applying patches to your sneakers. 
Before applying the patches, figure out the placement of your patches. 

Work fast, as the glue will harden quickly.

Add a little glue on the edge of the patches to ensure they stick to the sneakers. 

Make sure the glue is dry before using the sneakers.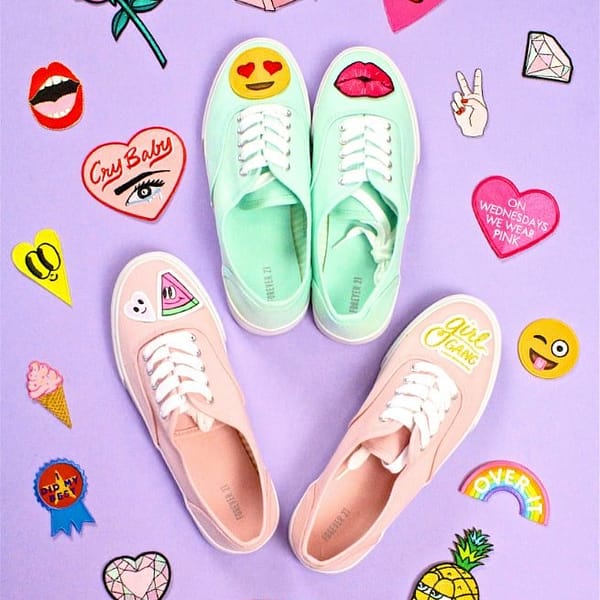 4. Vans Shoes Makeover
Upcycling your pair of shoes into something trendy is super easy and cheap. All you need is your creativity and some patches. There are two ways to attach patches to your old pair of shoes. These van's makeovers are ultra cool, and everyone can wear them because they're unisex. But if you want a DIY van's shoe makeover with a feminine touch, you can use flower patches or an embroidered rose patch.