The Christmas season is here again. With that in mind, it's time to prepare your Christmas decorations for the holiday season. So whether you need a unique Christmas gift or Christmas merchandise, an embroidered iron-on patch can be the perfect solution.
Turning patches into Christmas ornaments for your tree is easier than you think. An embroidered iron-on patch can easily serve as a festive Christmas ornament for this year's tree. Let's learn more below!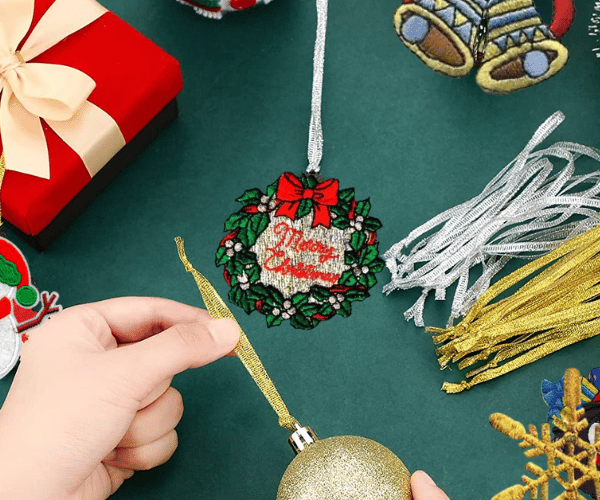 How to Turn Embroidered Iron on Patches Into Christmas Ornaments
Choosing a design for your Christmas tree ornament is up to you. There are many Christmas patches available for you to choose from. Follow these simple steps in creating your own Christmas ornaments.
Materials Needed:
Christmas patches (assorted designs)

Felt (Christmas colors: green, red, gold, white)

Paperclip

Scissor

Fabric glue or thread and needle

String or ribbons (Christmas colors)
Instructions
Step 1: Glue the paper clip at the back of the patch so that one curved edge just above the center will become a formed loop for hanging. Let it dry.
Step 2: When the glue on the paper clip has dried, spread glue at the back of the patch and cover the edges. Lay the patch on a piece of felt and press them firmly together. Continue pressing the edges until the glue stick to the edges, and there are no gaps around the edge of the patch. Then let it dry. 
If you choose to sew the patch, use an invisible thread and sew the patch on the felt.
Step 3: Trim the edges of the felt backing, leaving a narrow border around the design. 
Step 4: Tie a string or ribbon on the loop, and that's it! You have super cute ornaments to hang on your Christmas tree.
Two-sided Patch Christmas Ornaments
You can also make two-sided Christmas ornaments with your embroidered iron-on patches. Simply use two pieces of patches with the same design. Glue the paperclip at the back of one patch, and when it's dry, glue or sew the second patch on the patch with the paperclip covering it right to the edges. Press the edges together and let it dry. Tie with a string or ribbon.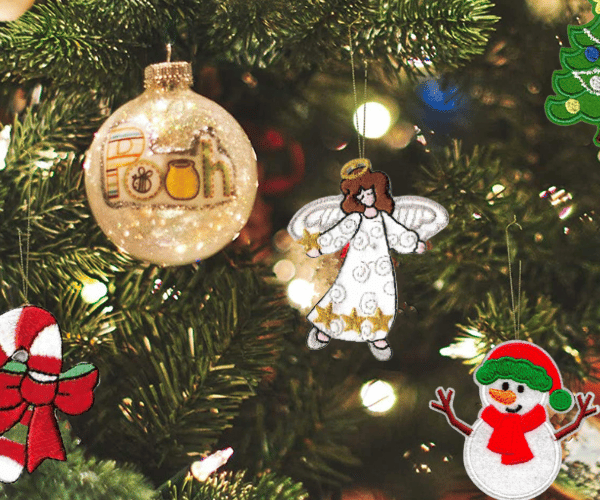 DIY Christmas Ornament with Patches Ideas
You can order custom patches from us and make them into unique and personalized ornaments for more meaningful holiday celebrations. Here are some ideas for your custom patch Christmas ornaments.
Family Photos
Take your family into memory lane by using photographs of special events and meanings and turn them into custom patches. Everyone will have fun remembering happy memories. 
Scene or Character From Favorite Shows
Scenes or characters from your favorite movie or show can also be used to create custom ornaments. 
Company or Business Logo with Christmas Theme
Some people use Christmas patch ornaments with their company logo to give to their clients or staff during the holiday season. These can be used to make Christmas ornaments and given to customers, staff, or friends to hang on their trees.
Patches with Various Design
If you have a collection of different patches, you can use them to make colorful ornaments to hang on your tree. Patches of different colors with make your Christmas tree attractive and unique.
Conclusion
Creating your own Christmas ornament will not only add a personal touch to your holiday decorations, but will also make the celebration fun and meaningful. So get your patches now and start creating your DIY Christmas ornament.