Chinese culture is certainly full of luck, and good fortune symbols believed to bring wealth and abundance. We often see these symbols easily in our everyday life, but sometimes we don't know their meanings and uses. This blog will look at these lucky Chinese iron-on patch symbols to help you know their meaning and uses. 
LOVE
The Chinese symbol of LOVE is one of the most known and widely used symbols worldwide. This love symbol is a wonderful reminder of how important it is to bring love into the world today. 
Gifting someone with a love symbol is a pleasant way of showing how important someone in your life is. Apart from your romantic love, this symbol can also express your affection towards your parents, siblings, children, and even friends. 
Our Chinese character "LOVE" in a red or black iron-on patch will be perfect for DIY greeting cards and gifts. I'm sure everyone would be happy to receive a symbol of love from you.
Longevity
This Chinese symbol of longevity also symbolizes long life or good health, which is the wish of all of us. The longevity symbol is often used on birthdays to wish elderly people's good health and long life. You can often see this symbol on almost all kinds of objects, like ceramic, furniture, and art decorations. 
One excellent way to use iron-on patches is to give this as a birthday gift to someone dear to you. 
PROSPERITY
The symbol of prosperity and good fortune is one of the widely used symbols. This symbol is often drawn on a red background and hung in homes as a Feng Shui cure to attract positive energy. You can see the prosperity or good fortune symbol as decoration on jewelry, charms, wind chimes, paintings, lanterns, pots, and posters. During the Chinese New Year, this posterity symbol is often seen in each household to attract fortune for the whole new year. 
Happiness
The happiness symbol is prominent in Chinese social customs. This lucky symbol is usually used in Chinese weddings as decorations on wedding invitations and decorations. Decorative items with happiness symbols are commonly given as a gift to provide the newlyweds with a blessing of good luck. Many also use jewelry with happiness symbols to enhance a perfect love life. The color of the happiness character is usually red and black.
Dragon
The most powerful symbol in Chinese culture is the dragon with supernatural powers and the ability to control cosmic forces. It represents the Emperor and is considered a sacred imperial symbol. Dragons are significant in Chinese culture because they are associated with business prosperity, good harvest, and health. They are also used as protective tokens that can offer protection to homes and businesses. Dragons are seen as defensive figures and are often printed or engraved on valuable objects.
Fish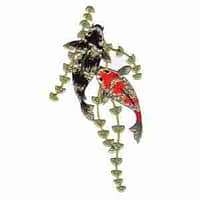 Fish is a common symbol in Japanese decorative arts that symbolize wealth. In Chinese culture, fish is associated with abundance and affluence. A carp symbolizes overcoming difficult challenges. A pair of fish symbolizes happiness in marriage and fertility because of the reproductive success of fish.
When To Use The Symbols
Using lucky Chinese symbols can be great for enhancing good feelings and luck in our lives. These Chinese symbols are often used as decorations for Chinese New Year, Weddings, Festivals, and other celebrations. Using these symbols, Chinese people hope it will bring them wealth, good health, and prosperity.