As more and more people are looking to get out and about once again, enjoying events, concerts, and festivities across the country, many of us are looking to enjoy our favorite bands or singers live and in-person once again. Music festivals are always a big draw and, with the increase of live entertainment events, the increased demands for unique musical or bands' merchandise also come. Embroidered patches have always been part of its promotion, marketing, and branding with music festivals or any other live events.
Patches are always part of the music. Most fans show loyalty and appreciation to their favorite singers or band by having their patches ironed, sewed, or glued to their jackets, shirts, jeans, hats, and other accessories. Embroidered patches can easily be sewn, ironed, or glued onto clothes, hats, bags, backpacks, any accessories, and garments. For an in-depth guide on how to attach patches to your DIY project, click here.
Patches are so popular with music fans because they are cute, affordable, and a unique souvenir for their favorite singer or band. They are also excellent as giving away gifts because they are unique, durable, and can be attached to any material. The versatile embroidered music and band patches offer an incredible detail to make any DIY project stand out. Here are some ways to wear your excellent music and band-iron on patches.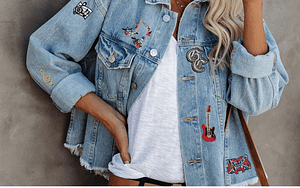 1. Denim
From jean jackets to distressed vests and other denim apparel is the perfect canvas for embroidered patches. Patches always look good on any denim, and it is a fun way to add color and style to a classic denim jacket. Attaching embroidered patches to denim is a simple way to create unique wardrobe pieces that set you apart from the crowd. Patches are a quirky addition to your outfit that enables you to express your personality.

2. Shirts
Attaching your favorite music patch onto a shirt is a subtle way to rock a patch look and show your loyalty to your favorite band or singer.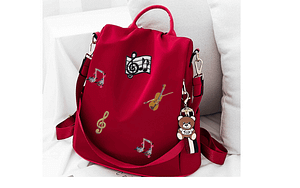 3. Backpacks
A patch-covered backpack never goes out of style. So attach a handful of colorful embroidered musical patches to your backpack and show everyone your love for your favorite band or singer. Having your favorite musical band on display is a great way to show others your hobbies and interests. It could also be a great icebreaker to start a conversation with a new classmate at school.
Embroidered musical patches also look great on hats, sneakers, jeans, leather jackets, and other accessories. Here at LaughingLizards.com, we have a variety of music patches and appliques. Our embroidered patches are super cute and made of high-quality embroidery thread. You can use these embroidered music and band patches to decorate your scrapbooks or any DIY projects. 
Here are Some of Our Music and Band Embroidered Patches: