Summer is the perfect time for travel adventures! Whether exploring a new city or going on a camping trip, adding some fun and personal touches can make your trip more memorable. One way to do this is by using embroidered iron-on patches. In this blog post, we will discuss the many benefits of using patches to decorate your clothes and gear and provide tips on choosing the right patch and applying it correctly. Let's get started!
Patches are fun and easy to make your travel adventures more memorable! Not only do they add personality to your belongings, but they can also help you keep track of them if they get lost. Embroidered patches are a great way to personalize your clothes and gear. You can use them to represent your favorite places, symbols, or even words that inspire you. Travel patches are also a great conversation starter – people will often ask about the meaning of your patch, which can lead to some interesting conversations.
Fun Summer Adventures You can Use Travel Patches with:
Kids love summer camp. Camping is a favorite summer activity for many, as an escape into nature. It's also a perfect activity for them to grow, learn and have an excellent adventure with the family. Whether in an RV or tent, camping is always a memorable adventure. Why not celebrate those adventures with souvenir patches ‌kids can decorate on their jackets, backpacks, or hats?
Feature landmarks, state flags, natural scenery, stars (as achievements patch), and other aspects that relate to your camping adventure. You can use embroidered iron-on patches to reward their achievements while camping or as keepsakes to remind them of the great times and lessons during those fun and memorable camp adventures. You can also create custom patches to share with other campers as keepsakes to other campers you met and befriended along the way.
Summer is a perfect time to spend a few days enjoying the beach. If you're planning to go to a resort or somewhere tropical, a patch is an easy and simple way to keep that trip memorable. A well-designed and colorful patch helps celebrate all the good memories that do not take a lot of space to keep or can be displayed and worn proudly. What's excellent with patches is you can find them anywhere, especially in tourist-driven places. 
Summer is the perfect time to go on an adventure and experience new things. It's relaxation and vacation time once again. Kids will enjoy visiting new places and making friends and memories. With so many things to do and see, why not make your travel more memorable by keeping little keepsakes from the places you've been to? You can keep souvenir patches like flags, maps, the name of the place, or landmarks to track all your travels. Who knows, you might be surprised to see the number of sites you have visited in the future. 
How to Choose the Correct Patch for Your Clothes or Gear
When choosing a patch for your clothes or gear, you should keep a few things in mind.
 First, think about the size of the patch. You'll want to choose a size proportional to the item it will be placed on.

 Second, consider the design of the patch. Make sure it is something you will be happy to see every day. 

Think about the meaning of the patch. What do you want it to represent? Choose a design that has personal significance to you.
How can a Patch Make Your Travel Adventures More Memorable?
When traveling, there are many benefits to using embroidered patches on clothes and gear. They can add personality to your belongings, help you keep track of them if they get lost, and be a great conversation starter. Patches are also fun and easy ways to make your travel adventures more memorable! If you're looking for a unique way to personalize your clothes and gear, consider using embroidered patches.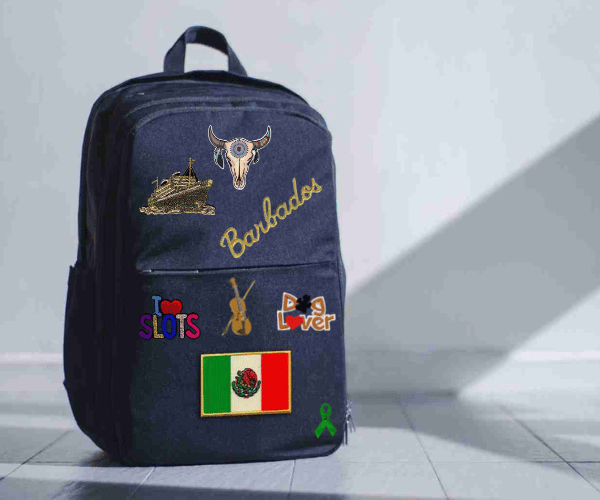 How to Apply an Embroidered Patch Properly?
An embroidered iron-on patch can be sewn, glued, or ironed to your clothes or materials. Select the best method of applying a patch to your clothes or accessories, depending on your fabric or material. For example, if it's made of leather, the best way to apply a patch to it is by sewing.
 Applying an embroidered patch with iron is a simple process.
 First, choose the location on the garment where you would like to place the patch. 

Then, remove the backing from the patch and position it on the garment. 

Next, use a hot iron to press down on the patch for 30-60 seconds.

Make sure to apply pressure evenly over the entire surface of the patch. 

Finally, allow the patched area to cool before wearing. That's it! Now you know how to apply an embroidered patch properly.
For more information on the other method of applying patches, click here. 
Adding patches to your clothes or gear is a great way to show your personality and style and make a statement. Patches can also be used to commemorate a memorable trip or event. If you're looking for a unique and personal way to make your adventures more memorable, consider using embroidered iron-on patches! Thanks for reading!