With spring in full swing, there's no better time to jazz up your wardrobe with these stylish and versatile patches. So if you're looking to add a pop of color to a plain t-shirt or give new life to your old clothes, embroidered patches are the perfect accessory. In this blog, we'll provide tips on how to choose the right patches, properly place and apply them, pair them with different outfits, and care for them to ensure they stay looking great. So, get ready to take your spring wardrobe to the next level with the help of embroidered patches!
The different types of patches
Embroidered patches come in several types and styles and the two most common types of patches are iron-on and sew on.
Iron-on patches: Iron on patches are the easiest to apply and require no sewing skills. Iron on patches are great for those who want a quick and easy way to add a patch to their clothing. These patches have an adhesive backing that is activated by heat. To apply an iron-on patch just place the patch in the desired location on your garment. Cover the patch with a thin cloth, and iron it until it adheres to the fabric.
Sew-on patches: Sew on patches require sewing skills and a bit more time and effort to apply. These patches have no adhesive backing and can be sewn onto the fabric by hand or with a sewing machine. Sew-on patches are more secure than iron-on patches and are ideal for clothing items that will undergo heavy wear and tear.
Tips on Choosing Patches That Suit Your Style
When selecting patches to jazz up your spring wardrobe, it's important to choose patches that reflect your personal style and complement your clothing preferences.
Select patches with designs and colors that reflect your interests: Patches are a great way to showcase your hobbies, interests, and personality. Look for patches that feature designs or images that relate to your interests, such as music, sports, or animals.
Consider the color scheme: Consider the color scheme of your clothing items. Choose patches that complement the colors in your wardrobe for a cohesive look. For example, select patches with bold, bright colors to add a pop of color to neutral-colored clothing items.
Think about placement: Think about where you want to place your patches and how they will look in your clothes.
Look for unique designs: Don't be afraid to choose patches with unique and eye-catching designs.
Choose high-quality patches: Choose good quality patches that are made from high-quality materials and have well-done embroidery.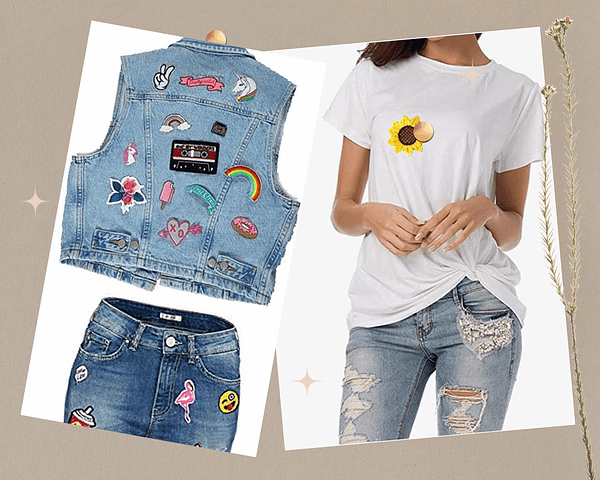 Spring Patches Placement
Here are some common areas where patches can be placed:
Pockets

Collars

Sleeves

Front or back of shirt or any clothes
When placing patches on your clothing, think of the overall design and placement of the patch for a cohesive and stylish look.
Pairing Patches with Outfits
Embroidered patches are accessories that can be paired with a variety of clothing items to create unique and stylish outfits. Below are some tips on how to pair patches with your clothes.
Denim Jackets: Patches are a perfect addition to denim jackets, as it gives them a pop of color and personality. To complement the patches, consider pairing the jacket with a simple t-shirt and jeans. Alternatively, layer the jacket over a dress or skirt to add some edge to a feminine outfit.
Plain T-shirts: Adding patches to a plain t-shirt can instantly elevate your outfit. Pair your t-shirt with a skirt or jeans for a more casual look, or layer up by adding a blazer or leather jacket.
Dresses: Patches can also be added to dresses to give them a unique twist. Consider adding patches to the collar or sleeves of a dress for a subtle touch, or go all out and add a large patch to the front or back of the dress.
When choosing outfits to pair with patches, consider the colors and textures of the clothing items. Neutral colors such as black, white, and gray can provide a perfect canvas for brightly colored patches to stand out. Patches can add some texture to an outfit, such as pairing a velvet dress with a patch featuring a furry animal.
For a more intricate look, consider layering different patches on top of each other. This can create a unique and personalized look, particularly when using patches of different sizes and shapes. The key to pairing patches with outfits is to have fun and experiment with different combinations. 
Caring for Patches
Proper care is essential to maintain the appearance of your clothing with patches. Here are some instructions on how to properly care for your clothing items with patches:
Washing: When washing clothing with patches, turn the item inside out to protect the patch. Use a gentle cycle and a mild detergent. Avoid using fabric softeners or bleach, as they can cause damage to the patches. 
Drying: Avoid using a dryer to dry clothing items with patches. Instead, hang them up to air dry. If you must use a dryer, use a low heat setting and remove the clothing item before it is completely dry to prevent damage to the patches.
Ironing: If your patch has become wrinkled or has begun to peel, it is best to iron it in a low setting. Avoid placing the iron directly on the patch as it can cause damage.
Conclusion
Embroidered patches are a fun and versatile accessory that can add personality and style to your spring wardrobe. By choosing the right patches and pairing them with complementary outfits, you can create unique and eye-catching looks that showcase your personal style. By following the instructions for washing, drying, and ironing, you can ensure that your patches will last long. With these tips in mind, you can jazz up your spring wardrobe with embroidered patches and create a look that is uniquely you.