Halloween is a holiday celebrated by millions of people all around the world each year. It is one of the holidays that adults and kids look forward to celebrating, as everyone loves parties, harvest festivals, haunted houses, costume parades, and treats or tricks around the neighborhood. 
But the whole world is still in the midst of a pandemic, so the Halloween celebrations that all of us are used to, might not happen this year- this does not mean that Halloween won't be fun. In fact, this is the best time for us to make an effort so kids can have a fun-filled, socially distanced Halloween celebration at home. With little creativity, we can still have a fun spooky time at home without spending too much and putting everyone's health at risk. Read on our ideas for a fun and safe Halloween 2020 celebration.
Deliver Festive Treats To Friends Or Neighbors
Giving delicious Halloween treats to friends and neighbors is one fun way of celebrating Halloween this year. Receiving a Halloween themed treat will surely brighten anyone's holiday, so create a bag of goodies with a note inside and put them out in your yard or put a table on your driveway or porch so anyone can easily pick them up. You can also surprise your neighbor by leaving a treat on their doorstep.
Tips on giving treats to friends or neighbors:
Wrap up the treats individually for easy pick-up. Having a small bottle of hand sanitizer on the table for everyone to use before picking up the treats is one way of ensuring a fun and safe Halloween.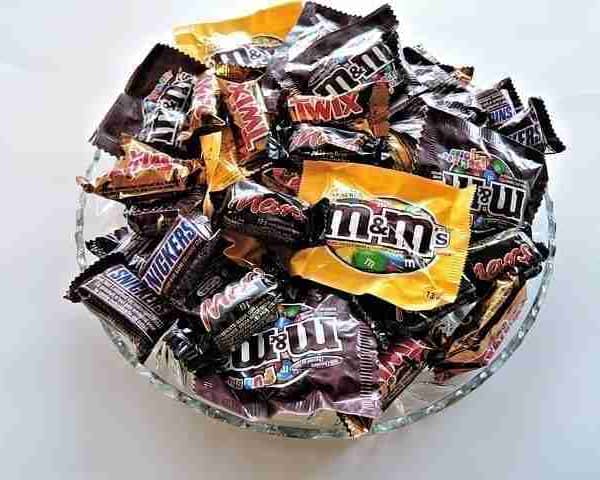 Face Painting
Face painting is one way of celebrating the fun and safe Halloween at home without spending too much. You don't have to be an artist to have fun painting faces. You can design a simple spooky face makeup or do a more complicated face paint with your kids. Halloween wouldn't be complete without a few scary makeups like a wicked witch, vampire, or clowns. There are many face painting tutorials and ideas out there for really unique Halloween looks, and you can buy an inexpensive face painting kit.
DIY Halloween Costumes 
We might be celebrating Halloween at home this year, but we can make it more fun by dressing up to the occasion. Halloween costumes are one of the best parts of Halloween tradition that we should not leave out. We can make our own DIY costumes with masks for a more fun and safe Halloween celebration. Whether we are doing it for ourselves or our kids, we can match our mask with our costume or make the mask a custom itself.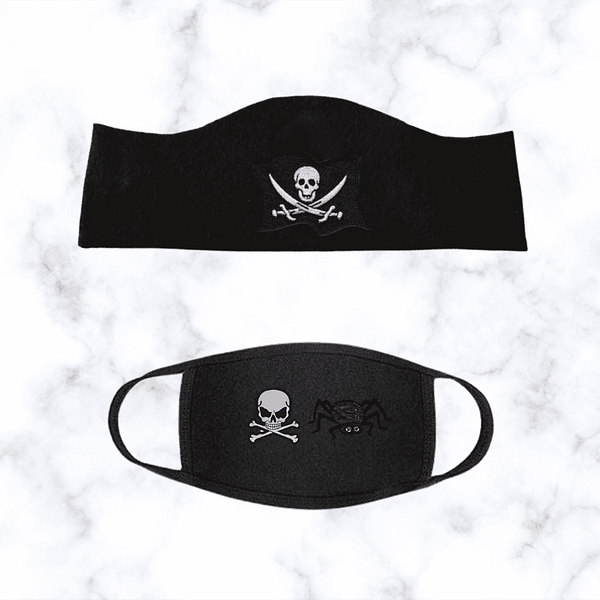 Halloween Costume Ideas: DIY Pirate Hat and Mask
You can craft a DIY pirate hat made from felt and elastic and decorate your mask to match your pirate costume. 
To make a pirate hat, you need a black felt (the size of a sheet of paper), elastic, a hot glue gun, and some Halloween themed or skull patches. Follow these steps:
Fold the felt in half and cut. Make the top part of the hat curve by cutting it in a curve line. 

Hot glue the skull patch on one of the felt.

Take the other piece of felt (this is going to be the backside of the hat). Cut a small slit (a couple of inches from the end) for the elastic to slip into. 

Slide the elastic in the slit and hot glue it in place. 

Ensure that the elastic fits snugly against your child's head and hot glue the other end of the elastic on the other side of the felt hat.

Run a hot glue band all around the outside border off the hat piece with the elastic tucked inside.

Lay the skull up a piece over the other piece and press them together. The felt with the skull is the front of the hat. You can decorate it with more patches if you like.
To decorate a mask: simply glue or iron on Halloween themed patches to the face mask.
Decorate Your House
A little bit of decorating can go a long way, especially if you have kids. So decorate your home with the creepiest and cutest Halloween decor this year. Make your Halloween celebration more festive by checking out these Halloween decoration ideas that will impress everyone.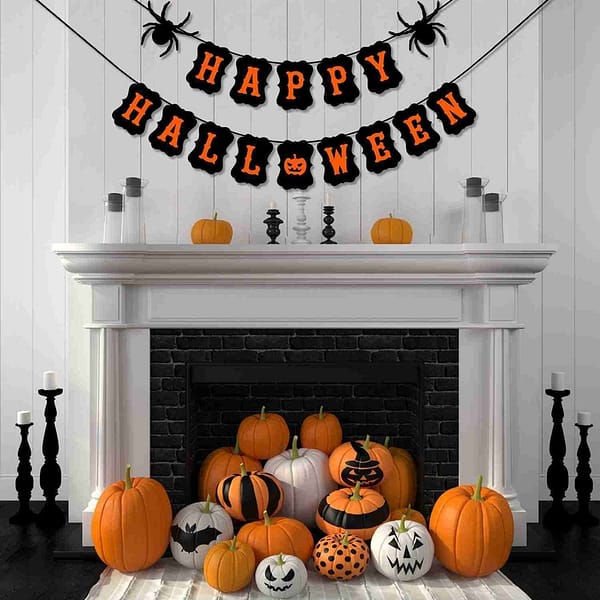 Make Halloween Crafts
You can make cute and easy Halloween crafts for the kids that you can make as a family. There are lots of easy crafts that you can make, and what's great is you can use iron-on patches with these crafts. Patches are great for Halloween crafts because they are easy to use, and you can re-purpose them for other crafts after Halloween.
Halloween craft idea: Patched Halloween Pins
These patched Halloween pins are so cute and easy to make. All you need are Halloween patches, a hot glue gun, and some hair clips or brooch pins. Glue the pin to the patches using a glue gun (always supervise kids using the glue gun as it uses electricity and it can be hot). Let it dry, and there it is, you have your Halloween pins.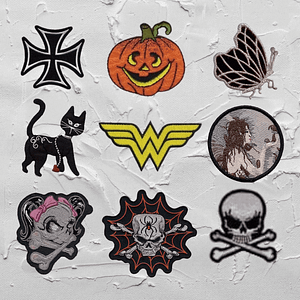 Prepare Halloween Inspired Food
Since traditional Halloween activities like treat or tricking with friends, costume parties, or going to a haunted house is not possible this year. You can make your Halloween celebration fun and safe by preparing a creative Halloween inspired food. You can make various spooky snacks or prepare a sophisticated, Halloween-themed dinner for the whole family to enjoy.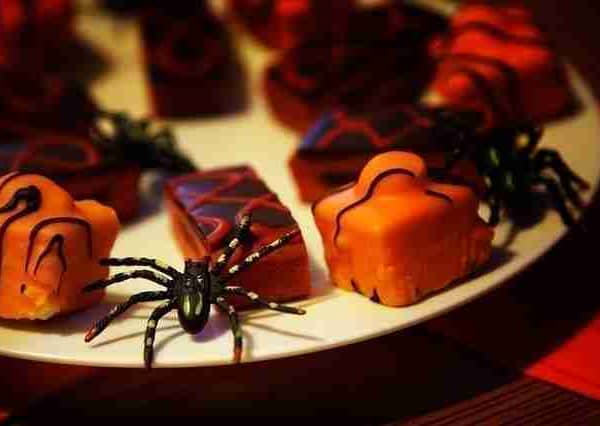 Halloween food ideas: Check these Halloween Dinner Recipes that your kids will love.
Virtual Halloween party
Thanks to FaceTime, Zoom, and other apps, we can still enjoy celebrating holidays with family and friends through virtual parties. While you can't physically gather and dine at the same table together, you can cook your favorite Halloween foods and eat simultaneously over video chat. These virtual dinner parties can be just as heartwarming and fun. Make your virtual dinner party a success by following these five steps in hosting a dinner party blog.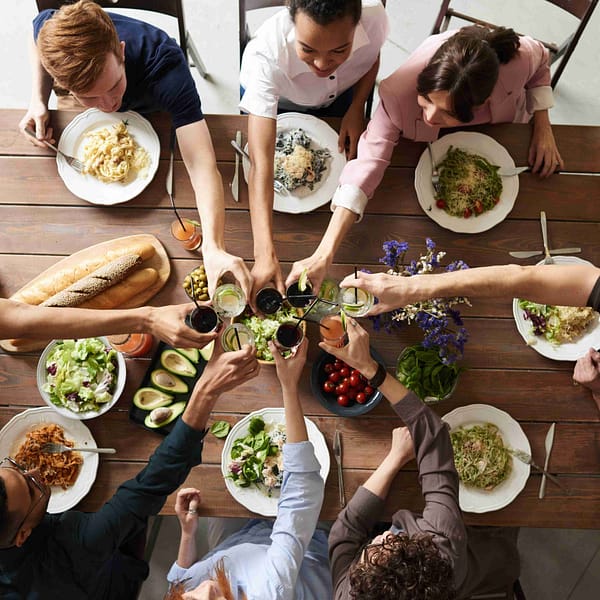 Watch Halloween Movies
Watching a scary movie is one of the most classic Halloween activities that most people enjoyed. Make your 2020 Halloween celebration fun and safe by watching scary movies. You can even make it more enjoyable by camping in the living room, turning off the lights, and watching scary movies. But don't forget to prepare some popcorn, drinks, and candies to eat after the screams and chills. Looking for scary movies to watch? This site has a selection of classic Halloween movies to watch.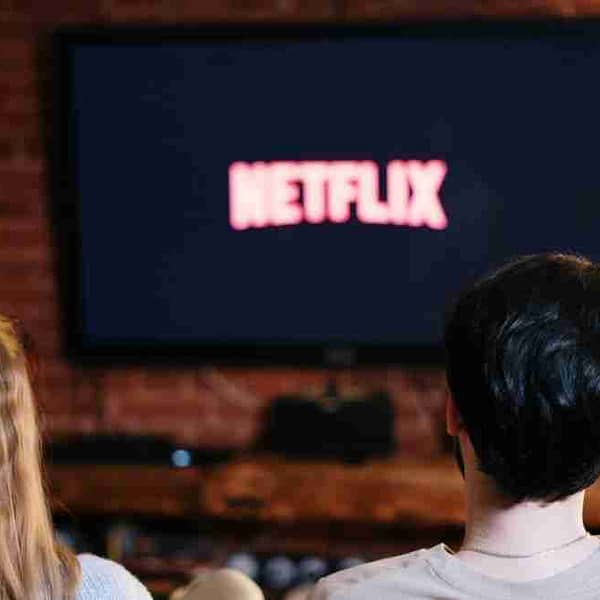 Sad to say that because of the pandemic, we are forced to social distance with others, stay inside, stop traveling, and traditional holiday parties were changed into virtual parties. This is the new normal now. While it is natural to feel upset and disappointed, these will not stop us from celebrating and enjoying parties and holidays. Let these circumstances provide us an opportunity to explore different ways of celebrating and enjoying life. Thank you for reading this blog, happy Halloween!