Embroidered iron-on letter patches and rhinestone letter appliques are a perfect and inexpensive way to customize and personalize your clothes, bags, and other DIY projects. They are not only for fabric use but also ideal for use in scrapbooking, card making, banner making, wall hangings, and books to help your little ones learn letters. Our vivid and colorful letters and numbers patches will make any DIY project unique and special.
We have a selection of high-quality embroidered iron-on letter patches and rhinestones letter appliques from A to Z. They are easy to use, and each letter patch has heat sealant backing glue on the back. These embroidered letter patches can be ironed, sewn, or glued to any project and are easy to use and store.
Embroidered Block Letter Iron-On Patches
Introducing our 2 inches sparkling gold iron-on block letter patches. 100% Embroidered in a high-quality bright metallic gold embroidery thread, these letters will sparkle in the sunlight. Perfect for adding bling to your jackets, jerseys, uniforms, bags, hats, shoes, and other clothing.
These metallic gold letters can be read easily, even from 20 feet away, making these letter patches perfect for spelling out words in banners or names on scrapbooks and other DIY projects. Great for adding a fun and unique look to any clothes and making your customized style uniquely yours.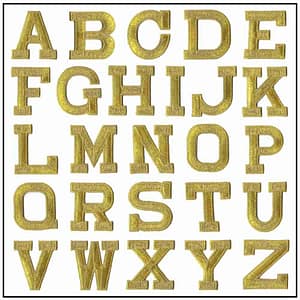 Embroidered Script Letter Iron-On Patches
These embroidered script letter iron-on patches are perfect for personalizing your clothes or other accessories like jackets, bags, socks, or hats. These cursive script monogram initials iron-on patches may be used to mark your DIY projects by putting your initial letters. Make your handicraft projects for any occasion unique and special by customizing and personalizing them through these initial letter patches.
Embroidered Letter Iron-On Patches For Kids
These educational ABC alphabet letter patches are great for toddlers who are just learning the alphabet and young students—made from a brightly colored twill fabric embroidered with embellishments in each letter. These patches will be perfect for decorating your young students' bags, notebooks, and books. Perfect for clothing repair accessory decoration, the patches come with glue at the back, making these easy to iron on, sew on or glue onto any project.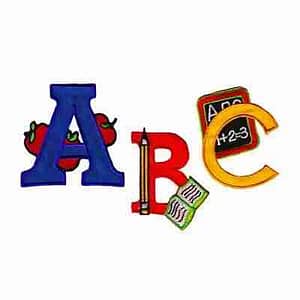 Rhinestones Letter Appliques
Adding bling and glam to your creations will be super easy with these 1-inch block letters iron on rhinestones appliques. Arrange these letters to form personalized messages into your favorite shirt or jacket. Our rhinestones letter iron-on appliques are created with high-quality stones that will withstand washing. With a classic block lettering style, these rhinestone letters are also perfect for embellishing scrapbook projects, custom labels, albums, gift messages or gift wraps, and other DIY crafts.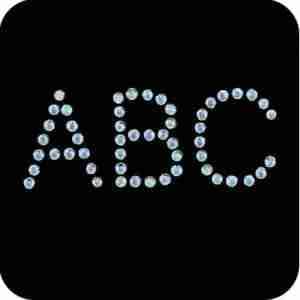 Tips For Applying Iron On Letters
Working with embroidered iron-on letter patches can be complicated since you will use many small transfers (each letter) instead of a single iron-on patch design. It can be tricky but not difficult as long as you have the patience, creativity, and self-confidence to do what you want to achieve in your DIY project. Take your time and enjoy your project; the result will be worth all your efforts.
Below are some tips on using these letter iron-on patches and appliques.
Tips on Ironing Patches
Use Cotton Fabric:

Use cotton fabric or cloth in your DIY project as much as possible. The higher the cotton percentage, the better.

Carefully Layout Your Iron-on Letters:

Choose the area in your fabric where you want to iron your letters and carefully lay out the individual letters you'll use. Make sure that each letter's bottom, top and side margins are the same. But if you want a free-form look, you don't need to worry about the margins.

Double Check Your Placement:

Make sure that everything is what you want your design to be. Check the spelling and letter placements to ensure no letter is facing down.

Use the Right Iron Settings:

Preheat your iron to "cotton," and do not use steam. Use a pressing cloth or handkerchief to cover your letters before ironing them. 

Be Patient When Ironing on Letters:

Remove the backing from the letter patches and firmly press the iron for about 40-50 seconds, using the iron's tip-in tight places. Allow the letters to cool slightly before checking if the letter adheres to the shirt. If the letter is not sticking to the shirt, press for another 30-40 seconds before re-checking. Iron some more until the letters completely adhere to the fabric. 

Be Careful When Laundering:

Your iron-on letters are machine washable, but it is advisable to turn your shirt inside out when washing to prevent abrasions from the other items in the wash load.
Tips on Sewing Patches
Sewing letter patches can be done in two ways: by hand sewing or using a machine.
Prepare Your Materials:

To sew letter patches on fabric, you will need a needle, pins, thread, or a sewing machine. 

Layout Your Letter Patches:

Carefully lay out your letter patches on your fabric and start sewing if you're using a sewing machine.

Use Pins:

Once you're sure with your layout, pin your letter patches to your fabric with safety pins to ensure that the patches stay in place while you sew the letter on patches.

Use Colored Threads:

Sewing with a different thread color or in a spiral way will add elegance to your finished project.
Tips on Using Fabric Glue on Patches
Use The Right Glue:

Make sure you will use the correct type of glue (fabric glue or craft glue).

Be Careful With your Layout:

Carefully align the letters to your fabric or project. Make sure that the spelling and letters are right and aligned.

Use Pins:

Use pins to ensure that the letters stay in line, remove the backing, and start gluing your letter patch to your project.