Iron-on appliques are a fashionable way to update your wardrobe and turn it into something unique that expresses your personality. Our iron-on appliques come in a variety of shapes, sizes, designs, and colors that suit any garment, so if you want to decorate your classic denim jacket or update an old pair of pants, you will have a lot to choose from in our collection.
Iron-on appliques are not only good for turning your old denim into a work of art. You can also use iron-on appliques on blankets, bags, cards, clothes, leather jackets, and anything you can make. There are plenty of DIY ideas that you can think of and plenty of appliques to choose from. All you need is a creative imagination because applying iron-on appliques takes only a few minutes, and the results can last for a long time.
We can make the design you want if you want something custom-made. We are happy to offer different categories of iron-on patches and appliques. If you can't find what you're looking for in the category, you can type what appliques you need in our search bar or go to our "custom patches."
In our categories, we have included something for everyone. We have animals, flowers, people, shapes, symbols, quotes, and almost anything you can think of. Whatever theme your next DIY craft project will be, we are sure you will find your perfect iron-on appliques and patches here.
Here are our DIY Iron-on Appliques Ideas to turn your old clothes into something creative: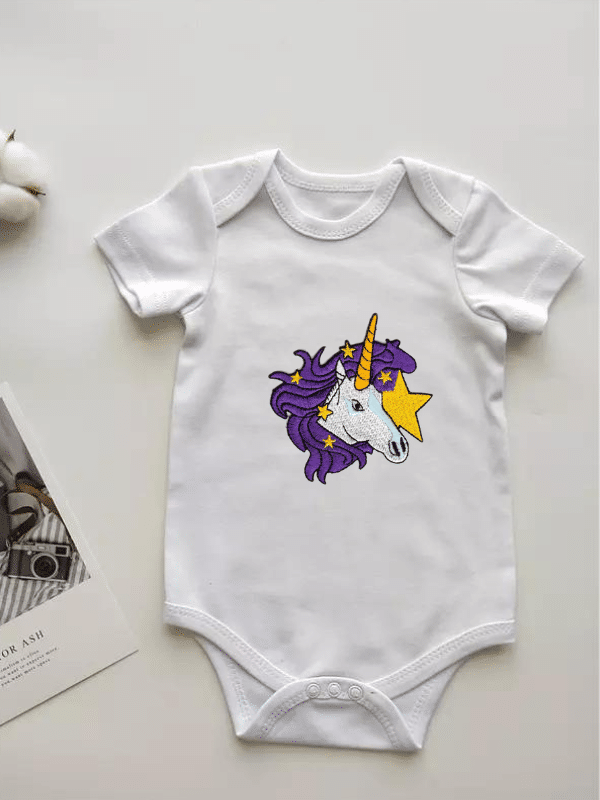 1. How to Make a Cute Custom Baby Onesie
Now that you've chosen your iron-on applique, it is easy to use it to decorate clothing. I'll show you how to applique your baby's onesie into a cute unicorn onesie everyone would love. This DIY is simple, yet the result is so adorable.
First, you need to gather your materials.
Fabric scissors

Onesie (must be 100% cotton and of any color and size)

Iron

Pressing cloth (you can also use a handkerchief or cotton pillowcase)
Instruction
1. Prepare your iron: To properly attach your applique, be sure to turn up your iron to high heat. Make sure that your fabric is a match to the heat.
2. Position your patch: Choose the perfect position for your applique. Try different layouts for you to see which is the better place to attach your applique on.
3. Use a pressing cloth: To protect your onesie's surface and applique, place a pressing cloth between the iron and the applique. Press the iron downward and hold it in place for 45 seconds. Do not move the iron around because this can shift the position of the applique.
4. Flip and repeat: Once the applique is attached to the onesie, turn it inside out and lay it flat on the ironing board again. Put the pressing cloth over the reverse side of the applique and iron again. Once the applique is securely attached to the onesie, allow it to cool completely.
2. How To Use Iron-on Appliques To Refashion Old Clothes by MyNextStyle.com
In this video tutorial, iron-on appliques, and rhinestones are used to make an old piece of clothing trendy again. In the first project, iron-on rhinestones and studs are used to give an old denim jacket a rockstar look. Iron-on rhinestones and studs are so easy to use; all you need is an iron, an old denim jacket, and some iron-on rhinestones and studs. A high fashion runway show inspired the second project, where an old cardigan was decorated with appliques to turn it into a high fashion-inspired cardigan.
The materials are easy to find, and the steps are easy. You will have a fun and creative time doing this project on your own.
3. How To Use Iron-on Applique: Super Heroes Iron-on Appliques by SimplicityVideo
Need a quick superhero costume? Watch this short tutorial for DIY ideas on applying various superhero-designed iron-on appliques for a costume you could use on any occasion, or maybe turn your plain-colored shirt into something exciting and attractive.
4. How to Decorate a Gift Bag with Iron-on Appliques
This video tutorial is easy and simple and a great and fun DIY craft project for moms and kids. A simple canvas bag is used in this tutorial, but you can use any bags you like, like backpacks. Our site has many cute appliques that your kids will surely love.
5. DIY Monkey Birthday Invitation Card
This creative birthday invitation card uses monkeys, green vine leaves, and letters iron-on appliques.
Materials
Patches

Scissor

Glue

Scrapbook

Colored pens

Ruler
Instruction
Cut the scrapbook paper into your desired size.

Make a margin on the sides and color with a dark green colored pen.

Color the scrapbook with an apple green color for the background, and carefully lay out the patches where you want to glue the patches.

When you're sure of your layout, glue the appliques and dry them.

When the card is dry, write the date, time, place, and anything you want to add. There it is, you're done! Your birthday invitation card is ready.
Tips For Applying Iron-On Appliques:
1. Use cotton fabrics: As much as possible, use 100% cotton fabrics to avoid burning your material. You can use other fabrics like polyester or silk for Iron-on appliques too, but you use the sewing or gluing method. 
2. Wash and iron our fabric: Wash your fabric and dry it out without using fabric softener; once your material is dry, press to remove wrinkles.
3. Be careful with your layout and double-check placement: Be sure that your iron-on applique is where you want it to be attached, and double-check if it is centered or aligned correctly.
4. Set the heat in the right Iron settings: Preheat your iron to the setting that matches the cotton fabric. Do not use steam. Work from the right-left and top to bottom in ironing your applique. 
5. Use pressing cloth: Use a pressing cloth to protect your applique and fabric. Do not iron your applique directly. Put a pressing cloth between the iron and the applique. You can use a handkerchief or old pillowcase as your pressing cloth.
6. Be careful when laundering: Your iron-on appliques are machine washable. However, it would be best if you should turn your clothes inside out during washing to prevent abrasions from other items in the wash load.
Use iron-on appliques to refashion clothes into something you love. You, too, can make fashionable statements from items already in your closet. So start your DIY now, and you'll be amazed at how many designs you can create in our collection of iron-on appliques.