Thanksgiving is a time for gathering with loved ones, sharing delicious feasts, and expressing gratitude for the blessings in our lives. It's a holiday steeped in tradition, but that doesn't mean your Thanksgiving attire has to be predictable or ordinary. This year, why not infuse a touch of creativity into your celebration and make your Thanksgiving truly memorable?
One way to achieve this is by using iron-on patches. These versatile and easy-to-use embellishments can transform plain clothing items into personalized works of art that capture the season's spirit. Whether you're hosting a festive dinner, attending a family gathering, or want to add a dash of Thanksgiving flair to your outfit, iron-on patches have you covered.
In this blog, we'll delve into iron-on patches and share the creative ways to incorporate them into your Thanksgiving outfit. From DIY t-shirt designs that celebrate the season to dressing up denim with fall-inspired motifs, we'll show you how to elevate your Thanksgiving fashion game and make a statement that's uniquely you. 
Selecting the Right Thanksgiving-Themed Iron-On Patches
1. Traditional Thanksgiving Motifs (Turkeys, Pumpkins, Leaves)
Traditional Thanksgiving motifs are the heartbeat of your holiday fashion project. These classic symbols instantly evoke the spirit of the season. With their whimsical feathers and endearing gobble, turkeys are a staple of Thanksgiving. Patches featuring pumpkins, whether as jack-o'-lanterns or ripe harvest pumpkins, add a warm and inviting touch. In various autumnal hues, leaves capture the essence of fall and the changing landscape.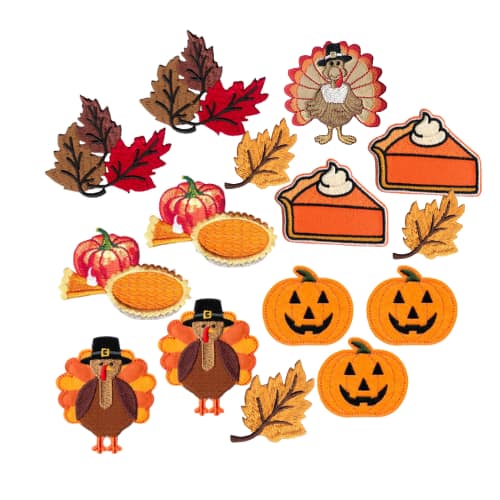 2. Personalized Patches (Initials, Family Names)
For a unique and personal touch, consider customized iron-on patches. Adding your initials or family name to your clothing allows you to create special Thanksgiving attire that's yours. Personalized patches elevate your fashion and make for meaningful keepsakes that can be cherished year after year.
Materials You'll Need for the Project
Now that you've chosen your iron-on patches, it's time to assemble the necessary materials and equipment to embark on your Thanksgiving fashion journey:
Thanksgiving Patches

Iron

Ironing Board or Heat-Resistant Flat Surface

Clean, Dry Fabric for Your Clothing

Parchment Paper or Cloth for Protection
Creative Ways to Use Iron-On Patches for Thanksgiving
Thanksgiving is when families and friends come together to share a bountiful meal and reflect on their blessings. While the focus is primarily on the food and the company, there's no reason why you can't extend that spirit of togetherness and gratitude to your attire. This is where the magic of iron-on patches comes into play.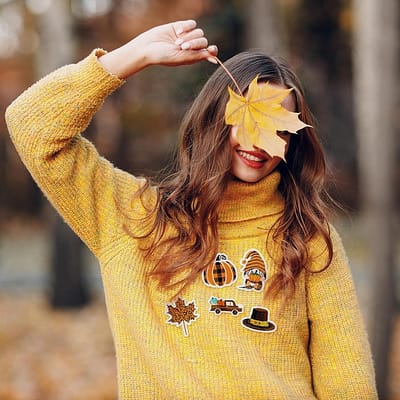 1. DIY Thanksgiving T-shirt Designs
Gobble Gobble: Start with a basic plain t-shirt and add turkey-themed iron-on patches. These adorable gobblers can turn your attire into an instant conversation starter. You can go with classic brown turkeys or experiment with colorful variations.
Grateful Heart: Show your appreciation for the season by creating a gratitude-inspired design. Use iron-on patches to spell out words like "Thankful," "Grateful," or "Blessed" on your shirt. Choose patches with autumn leaves or acorns to enhance the theme.
Pumpkin Spice and Everything Nice: Celebrate fall flavors by adding pumpkin-themed patches to your t-shirt. A simple pumpkin spice latte design or a row of whimsical pumpkins can add a touch of autumn charm to your outfit.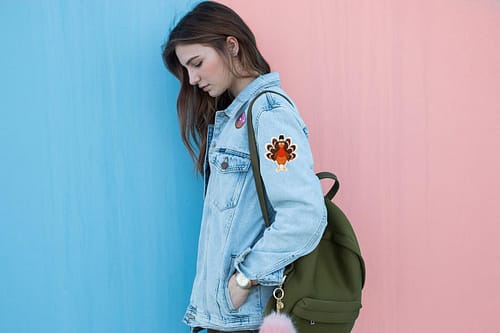 2. Dressing Up Denim for Thanksgiving
Festive Jeans with Leafy Accents: Give your denim a seasonal makeover by adding iron-on patches featuring intricate leaf designs. These patches can be strategically placed along the seams or pockets of your jeans for a subtle yet stylish touch.
Thanksgiving-Themed Denim Jackets: Transform your denim jacket into a festive fashion statement. Iron-on patches of cornucopias, harvest motifs, or even a cozy Thanksgiving scene can bring your jacket to life. Don't forget to add patches to the collar or cuffs for extra flair.
Embellished Denim Skirts: For a touch of femininity, consider ironing on patches with fall florals or pumpkin patterns to your denim skirt. This combination of casual and chic is perfect for a Thanksgiving gathering with family and friends.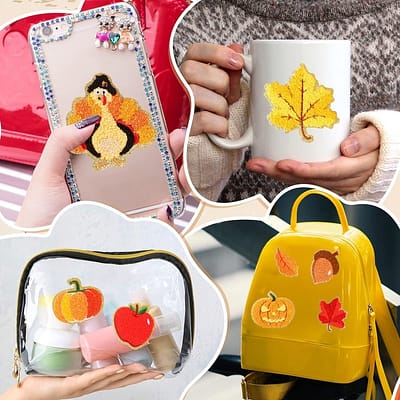 3. Accessorizing with Iron-On Patches
Customized Thanksgiving Aprons: If you're the designated chef for the day, why not make it extra special with a personalized apron? Iron-on patches with kitchen-related motifs or witty Thanksgiving phrases can add charm to your cooking attire.
Embellished Tote Bags: Personalize your tote bag with iron-on patches for those bringing dishes to the feast. A bag adorned with turkey patches or messages of gratitude is practical and a delightful conversation starter.
Cozy Scarf with Fall-Themed Patches: Stay warm and stylish with a scarf decorated with iron-on patches. Choose patches featuring autumn leaves, pumpkins, or a simple "Happy Thanksgiving" message. Your scarf can be the perfect finishing touch to your Thanksgiving ensemble.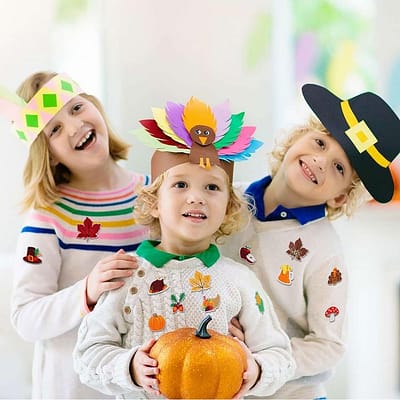 4. Kid-Friendly Thanksgiving Crafting
Creating Turkey-Themed Tees: Get your little ones involved in the Thanksgiving fashion fun. Let them select their favorite turkey patches and help them iron these patches onto their t-shirts. It's a creative and entertaining activity for the whole family.

Personalized Iron-On Patch Placemats:

Elevate your Thanksgiving table setting with personalized placemats. Allow the kids to decorate plain fabric placemats with iron-on patches. Each family member can have their unique Thanksgiving masterpiece.
By incorporating iron-on patches into your Thanksgiving attire, you infuse creativity into your look and celebrate the holiday with a personalized touch. These DIY projects are fun to undertake and create lasting memories as you craft your way into the Thanksgiving spirit. So, gather your patches and get ready to showcase your unique style and gratitude this Thanksgiving!