Valentine's day is only a few days away, and we are all thinking of the best gift we can give our loved ones. Finding the perfect gift for someone you love is not always easy, and expressing love is not about giving expensive gifts. A simple gift can be worth more than a precious gift if you spend your time and effort, because what matters most is that the gift is given from the heart. So, give something that will leave a long-lasting mark in the heart of your loved ones by giving them something unique. Laughing Lizards has a wide selection of heat patches and appliques to make something creative and personal for your loved ones.
Why Use Heart Patches and Appliques?
Patches are one of the perfect and unique gift ideas you can give this Valentine's day. A simple DIY patched gift can turn your gift into something memorable because it will show that you've put a lot of thought and effort into the present. Here are the reasons why patches are perfect for gift ideas.
1. Heart Patches are Versatile
Heart patches and appliques are so versatile you can use them on any creative project, customize your garments, or give them a perfect gift to someone who loves DIYs. With these heart patches and appliques, you can create unique designs that show your creativity and affection to everyone. Make these heart patches the main gift, or use them to patch and personalize a jacket or bag.
2. Patches are Easy to Ship
Patch a little love for your friends and loved ones who live far by sending beautifully designed patches along with a greeting card. A patch can be a surprise gift that fits snugly inside a greeting card.
3. Patches Give Gifts a Personal Touch
Giving a DIY patched gift shows you have taken the time to get to know your loved ones and incorporate your knowledge into a gift made just for them. These will make them unique and cared for, which will help create a deeper personal connection.
4. Patches Can Make Your Gift Unique
Whether you're using embroidered sew-in or iron-on patches, it will instantly make your DIY gift unique because, with patches, design possibilities are endless. Giving something personally made by you makes the gift more special and priceless than any store-bought gift.
5. You Can Customize Your Gift With Patches
With Patches, you can customize your gift to suit the personality of one person whom you will give the gift. Patches can also make an ordinary gift into a one-of-a-kind gift.
6. Patches Show You Care
People give gifts because it makes us and other people happy. Giving a customized gift is one way of showing others that you care about them. As a receiver, seeing that someone has gone the extra mile to make something unique will make you feel good.
Our Heart Designed Embroidered Iron-on Patches and Appliques
Here are some of our heart patches and appliques you can use for your DIY Valentine's Day crafts and gifts.
Cute Heart Embroidered Iron-On Patches
These stylish and cute heart design patches are perfect for DIYs and gift ideas. Perfect for decorating a girl's clothing, onesies, bags, and other accessories. Girls will also love decorating their scrapbooks, laptops, and other DIY projects with these cute heart patches.
Check out our selections of tribal hearts patches. These patches are perfect for adding heart-inspired decoration to your jeans or denim jacket. Our tribal heart patches are also ideal for any gal who loves crafts and patches.
These decorative floral hearts speak the language of love and romance with their elegantly crafted petals and contrasting leafy vines. With these girly hearts, you and your loved ones will enjoy decorating your dresses, shirts, jackets, bags, pillows, bags, and other accessories. You will also enjoy using these pretty hearts on your DIY crafts projects.
Heart Rhinestud Appliques
These beautifully designed rhinestone heart appliques are an easy and fun way to show your style. Perfect for personalizing your stuff and adding bling to boring old clothes hidden in your closet. Just iron the applique into your favorite garment, and you'll have a shimmering highlight. 
So, Are You Ready to Get Creative This Valentine's Day?
Here are our DIY patched Valentine's Day ideas you could use to surprise your loved ones this Valentine's Day.
1. DIY Patched Double Gloves
Kids and adults will surely love these DIY patched gloves, and the emoji heart will make your heart stay calm and warm.
Materials
2 pairs of knit gloves (any color)

Fabric scissors

A piece of protective fabric

Iron-on patches and iron
Instructions
Make a layout where you want to put your patches on the gloves. Place a protective fabric on the top of the glove and patch.

Press with an iron according to the direction of the patches. If this is your first time applying iron-on patches, read "How to Iron On A Patch."

Repeat on the other glove, and you're done!
2. DIY Hearts Patched Valentine's Day Greeting Card
A DIY heart Valentine's Day card can make it unique and sentimental. Hard paper patched cards are very durable, which helps preserve memories of your Valentine's Day gifts. The gift of a patched card can help express your message uniquely.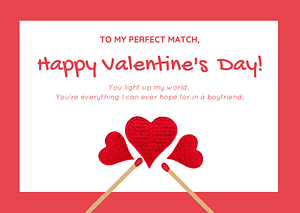 Materials
A piece of hard paper (white or in your favorite color)

Glue for crafts

Scissor

Hearts patches
Instructions
Print the paper with your message, or handwrite your note on the paper. 

Cut the card from the paper (to any size and shape you want), glue the patches, and adhere it to the paper, and there it is! You have your personalized patched card. You can send it or give it personally.
3. Patched Coffee Cup Sweater
You can customize an ordinary coffee cup with a patch that fits his personality with a fabric cup sweater. A personalized patched fabric cup is perfect for keeping those hot coffees warm and his hands dry from smoothies or iced coffee drinks on the go! If he loves coffee, you could buy him a mug or a reusable coffee cup and pair it with a patched fabric cup sweater for a more personalized gift.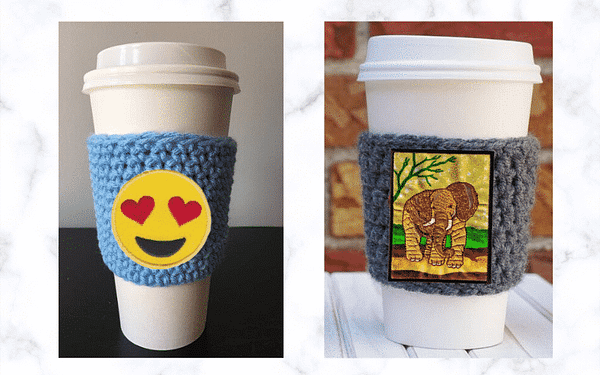 Materials
Reusable coffee cup or coffee mug (any size)

Plain crochet coffee sweater (you can make your coffee fabric by cutting plain colored old fabrics by cutting and sewing it to a size that fits your coffee cup)

Needle

Thread

Scissor

Patch (you can select your own choice of embroidered patches)
Instructions
Sew your choice of a patch to the coffee fabric, and you're done! 
4. DIY Pillowcase with Floral Patches
Holly Wade used the intricate floral appliques patches often used around clothing necklines in this pillowcase tutorial. Instead of using those patches for intended use, she used them in outlining pillow corners. Unlike some other patches, these long, intricate floral patches require more work to attach to the fabric. However, this project is still easy to make and an excellent Valentine's Day gift.
Materials
A solid pillowcase, cotton or similar fabric 

Iron

Dish cloth or pillowcase

Floral appliques or floral embroidered patches

Iron

Dish cloth or pillowcase
Instructions
Heat the iron in the cotton setting. (You can also sew embroidered patches on this project)

Lay the pillowcase on a flat surface and iron out any creases in the pillowcase.

Arrange the patches on the pillowcase. Holly placed two in each corner.

Place a dishcloth or pillowcase over the patched areas and press the iron for a few minutes. Carefully move the iron back and forth to the smaller sections, like leaves.

Check carefully if the patches have been glued into the fabric.

Once all the floral appliques are ironed in place, you're done! Insert a pillow to see the result. 
Patches are an easy way to add meaning to your gift by adding a personal touch. Our wide selection of patches can help you make many unique designs that will be a great hit this Valentine's Day.