Want a unique and meaningful way to remember the holiday this year? Why not do DIY Christmas crafts? Decorate your house with easy-to-make Christmas. It's a meaningful way to celebrate the holiday season and a great time to spend quality time with your kids and family. 
In this blog, you will find some easy DIY Christmas crafts to brighten your holiday decorations. These activities are perfect for a family crafting time with your little ones for an individual project. Making your own Christmas decorations will brighten your holiday decorations and surely get everyone into the holiday spirit.
1. DIY Card Christmas Tree
Most of us get several Christmas cards every year, usually kept in a pile inside our boxes. In this DIY project, you can recycle your old Christmas cards and customize them into a wall Christmas card tree. 
This is a relatively easy DIY craft that the whole family might enjoy creating and remembering those happy holiday memories. Make sure to pick the most excellent cards and arrange them up on your wall into a Christmas tree, and for a brighter holiday, you can decorate it with Christmas Lights. Then put a bucket at the bottom for all your gifts.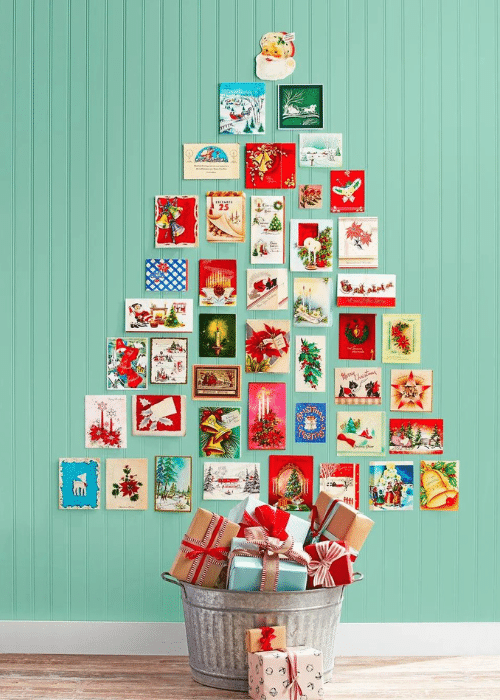 Photo by Brian Woodcock
2. Easy DIY Christmas Bow Wreath
If you've got ribbons, put them to use with this creative and easy-to-make Christmas Bow Wreath.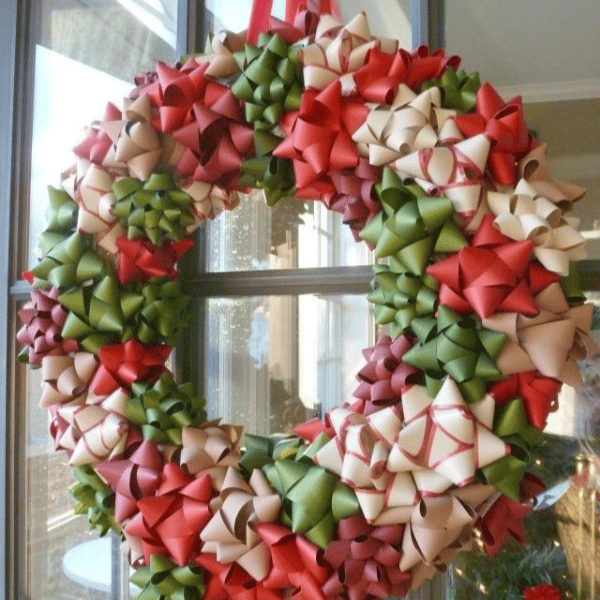 3. Christmas Ornaments with Patches
If you have a collection of patches, you can turn them into DIY Christmas ornaments by following our tutorial. A DIY festive Christmas ornament is a simple way to show creativity and make your holiday brighter and more meaningful.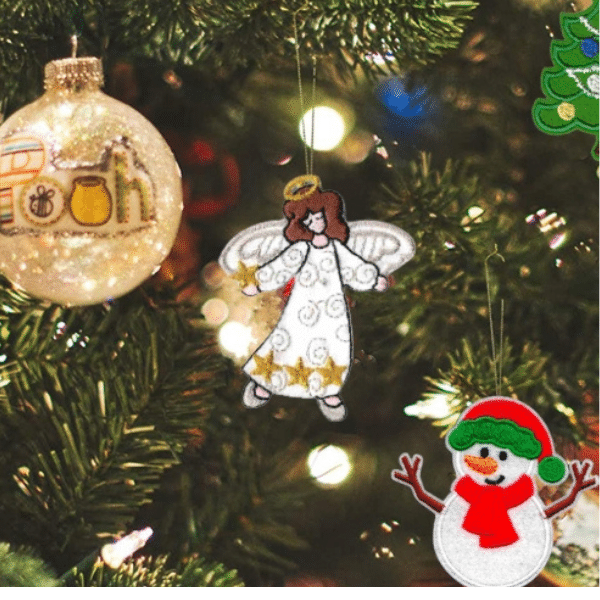 4. Knit Cap Ornament
Make these cute little yarn caps to hang on your doorknobs or your Christmas tree to add a personal touch to your Christmas decorations.

5. Star Decoration
Stars can be a perfect way to brighten your Christmas holidays. Cut them with scissors and tape a strand of ribbon into the back of the star. You can tape two stars (back-to-back) to hide the ribbon at the center. You can use patches or print out a star template and trace them into different festive colored papers.
Suppose you want to use star patches, glue two patches of the same size together with a string or ribbon at the center. You can hang these star decorations on your Christmas tree or anywhere you think it will look great. Click here for the 12 cute and fun DIY Christmas ornaments ideas.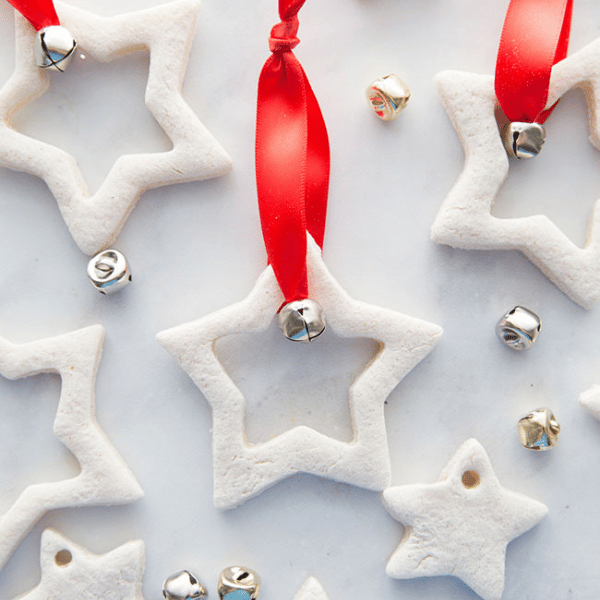 6. Yarn Letters
Turn your names or any festive word into pretty Christmas letter initial decorations to brighten your holiday celebrations. Just cut out your desired letters from cardboards, then hot glue the start of colorful yarn to make it secure. Wrap the letter cardboard with yarn until the whole letter is covered. Secure the end of the yarn with hot glue to keep it in place. Make a loop yarn and hot glue it on the back of the ornament for easy hanging.
7. DIY Christmas Stocking
With this easy no-sew DIY patched Christmas stocking tutorial, you'll have a perfect festive container for your smaller Christmas gifts and stockings to hang on your‌ stairs. You can decorate your Christmas stocking with iron-on patches to make it more attractive and personal. 
8. Candle Holders
Repurpose old jars to make candle holders as fresh centerpieces for your Christmas holiday decorations. This DIY is super simple and easy to make. Just gather old bottles or jars of different sizes and shapes. Clean and remove the labels and use twine, string, or ribbons to tie greens or other decors to the jars. Then place tea light candles in the jars, and that's it! You'll have brighter Christmas decorations.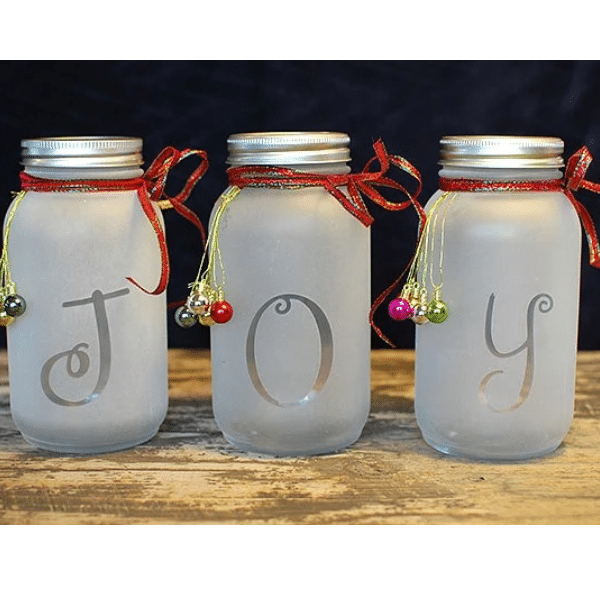 9. Hanging Ornaments
These hanging ornament clusters or Christmas ball drops will make an elegant decoration for your entryways, light fixtures, or banisters.
To make your own hanging ornaments, you will need the following:
Ball ornaments ( assorted colors)

Ribbon ( multi-colored)

Scissor
Instructions:
Select at least 12 multi-colored ball ornaments.

Cut a ribbon for each ornament at different lengths to create dimension.

Tie a ribbon to each ornament, leaving a tail of about two inches. Then use scissors to curl the tail.

Secure the ornaments by tying the ends of the ribbons together.

Make a wide ribbon at the top. Then hang them on a secure light fixture or any place you want.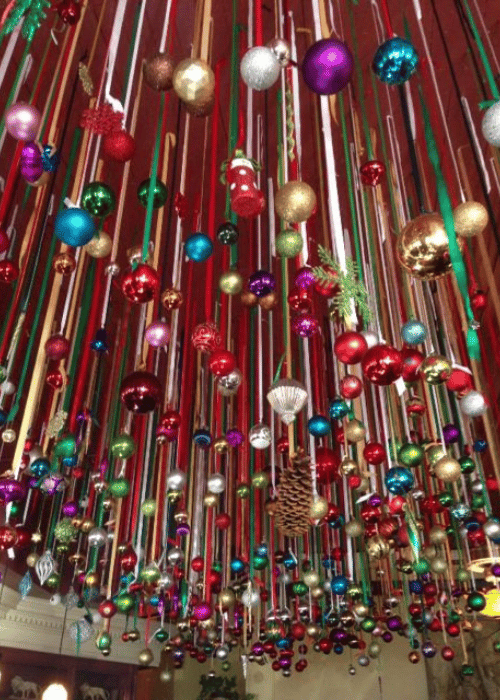 Photo from Pinterest
10. Ornament Wall Tree
Reuse your old ornaments and put them on the wall to make a pretty ornament Christmas tree. You can use an old wood window screen to frame the decorations and give your Christmas tree a rustic look. Inspired by Charm, make a tutorial on this creative DIY. You can check it out here.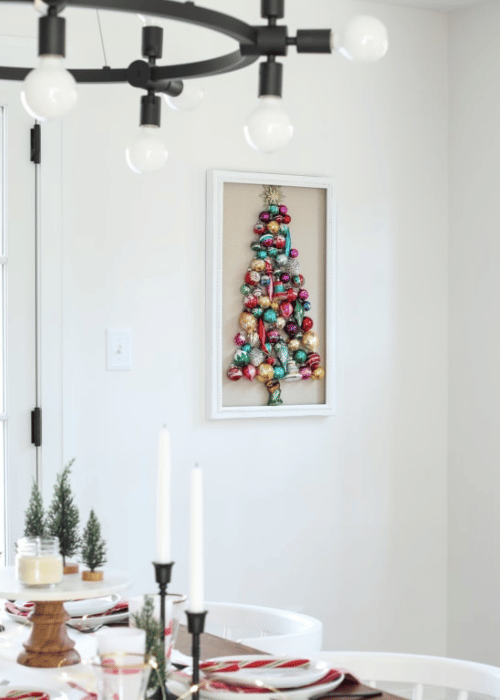 11. Iron- on Shirts
Your family will enjoy Christmas morning if you're all wearing matching shirts. Simply select festive colored shirts and iron them with Christmas embroidered iron-on patches. Follow this tutorial on how to attach patches to shirts.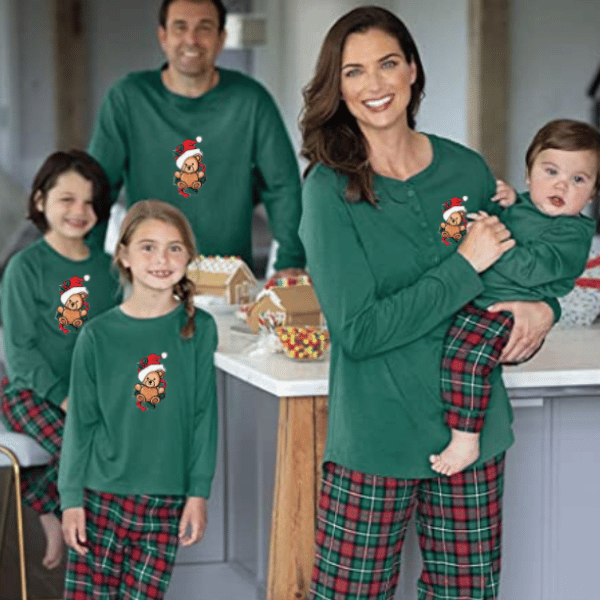 12. Personalized Fabric Coasters
You'll have plenty of company during the holidays. Make a festive coaster to add a festive touch to your coffee table. Why not surprise everyone with a personalized fabric coaster with their initials? You can iron embroidered letter patches into the coasters for your friends' or family's initials.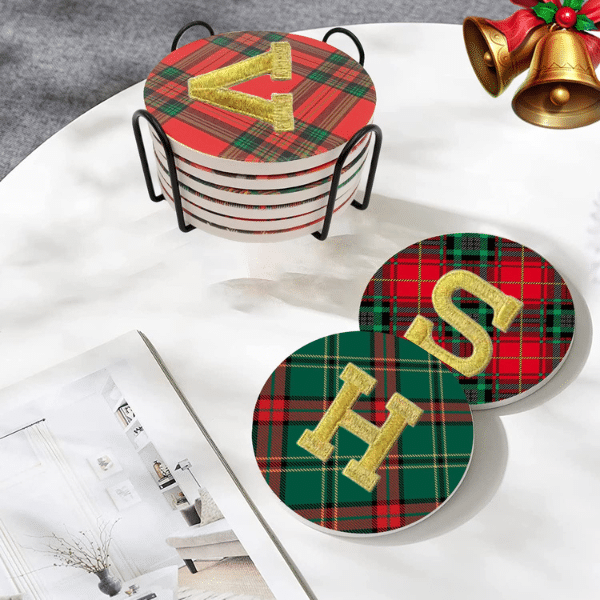 13. Family Photo Snow Globe
Create a personalized festive snow globe filled with stars and trees using your favorite family photo. Learn how to make this easy Christmas decor here.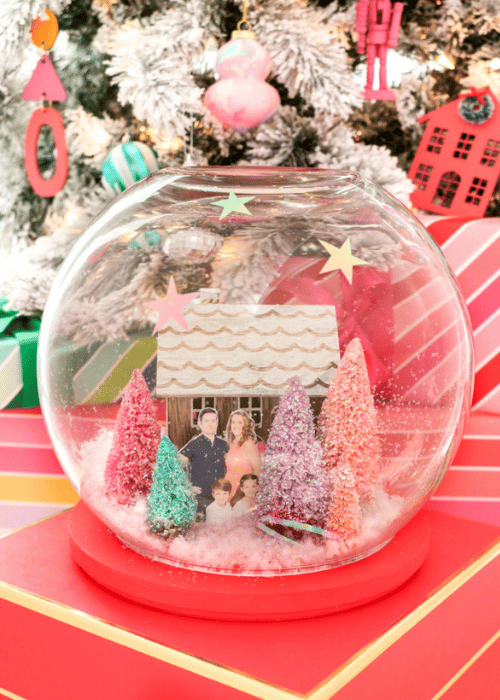 14. Paper Poinsettias
These paper poinsettias will surely last long beyond Christmas. They are so creative and look like a real things. Learn to make these paper poinsettias through this tutorial.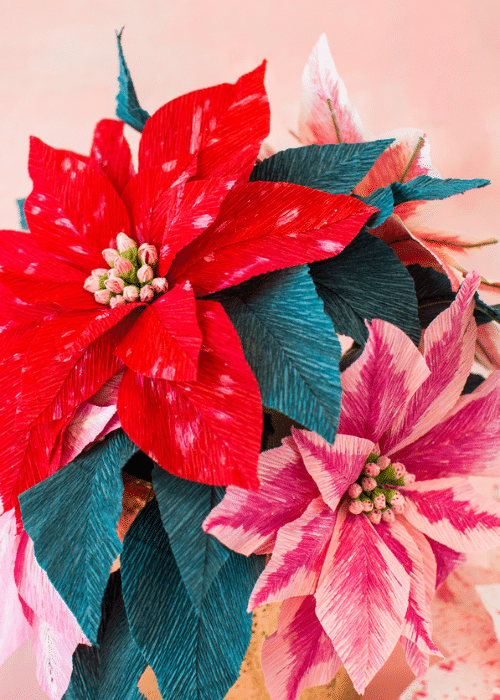 15. Canvas Christmas Banner
Let your kids make this easy Christmas banner and hang it on your front door, kitchen, entryway, or anywhere to make your Christmas decoration more festive.