Kids have an uncanny ability to turn the ordinary into the extraordinary, including their clothing. If you're a parent, you've likely faced the challenge of dealing with the wear and tear that comes with your little one's adventures. Perhaps it's those scraped knees from an enthusiastic game of tag or the telltale signs of rough-and-tumble play in the backyard. Fear not! Instead of putting those beloved pants into the "too worn" pile, why not transform them into a canvas for creativity? In this blog, we'll explore the creative solutions for patching your kid's jeans. From basic techniques for quick fixes to whimsical designs that will make your child's wardrobe truly one-of-a-kind, get ready to embark on a journey where mending becomes an art form, and patches tell stories.
The importance of finding creative and fun ways to patch kids pants: 
Patching up your kid's jeans is not just about extending the life of their wardrobe; it's about infusing a sense of creativity and individuality into their daily attire. Instead of seeing wear as a problem, think of it as an opportunity for artistic expression. Creative patching saves pants from retirement and turns them into unique pieces that reflect your child's personality and experiences.
12 Creative Ideas on Patching Your Kid's Jeans
Try these DIYs for a creative and fun way to patch your kid's pants. Enjoy!
1. Tanya Memme's DIY Monster Knee Patches – Home and Family
Tanya Memme shows you how to make fun monster knee patches for boy's pants that your kids will love to wear on their jeans. The first thing you need to do is cut out the size of the monster patch in your kid's jeans. You can use fabric glue to put the monster design on the denim and know that the more glue you add, the more durable the knee patches will be. Tanya admits that she's not a sewer, so if she can do this DIY, anybody can!
2. Make Do and Mend: Patching a Knee
This mends a kneehole tutorial using patches is a creative way to make knee patches for kids jeans. The materials used are denim iron-on patches and cookie cutters for tracing and shaping. The result is a super cool patched knee that doesn't resemble mended jeans. Your kids will surely love these creative DIY ideas.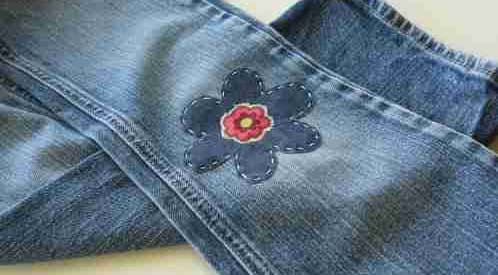 3. Crawling Baby Pants
Make some crawling baby pants with padded knees for your adorable little one! These crawling baby pants are perfect for crawling babies. These knee patches can also be used as crawling baby pants when you sew knee pads to protect your baby's knee from getting sore by crawling to the hard floor.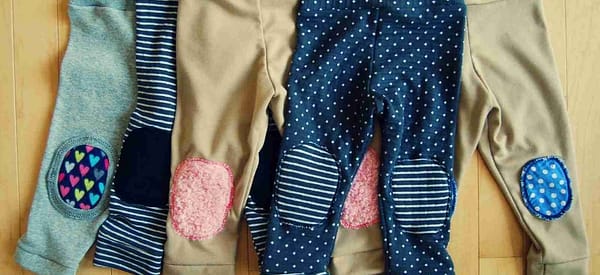 4. Dino Knee Patches Tutorial – A Hand-me-down Rehab
This tutorial is more of a hand-me-down rehab than patching a kid's jeans. There are lots of ways to add patches to your kid's jeans. This is another creative and resourceful way to add life to old kid jeans. So try this Dino knee patches tutorial.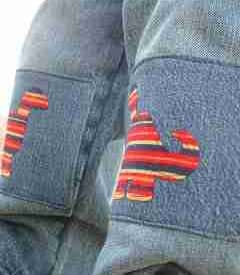 5. Sew-on Patches for Jeans
Patches for kids pants are a must in this author's house. She used sewn-on patches on her son, who loves hiking and jumping. If your kids love hiking and outdoor activities, try these DIY sewn-on patches on your kid's jeans.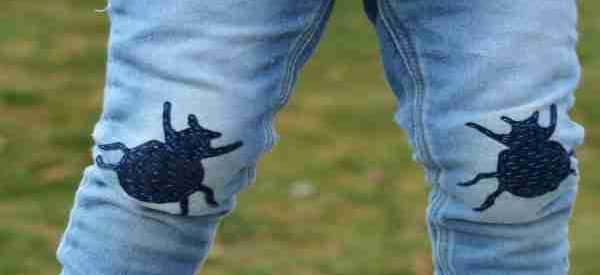 6. How to Patch Jeans with Iron-on Patches
Patching jeans is a simple task, even when there is no sewing machine at hand. Iron-on patches simplify the task, as only iron and ironing boards are required! All kids hit a certain age when jeans get holes in the knees on a widespread basis.
Since the iron-on patches over the knee area are exposed to a lot of wear and stress, the patches will only stay on the jeans long-term if a simple whip-stitch is added around the border of the patch. This stitching does not require a sewing machine and is simple, even without prior knowledge of sewing techniques. An iron-on patch with a whip stitch around the edge will last indefinitely. Try these knee patch ideas with embroidered iron-on patches.

7
7. Cool Kids' Patches for Jeans.
If there are others with children crawling everywhere, Chris shared the resources and directions she used to create fun patches for your kid's jeans.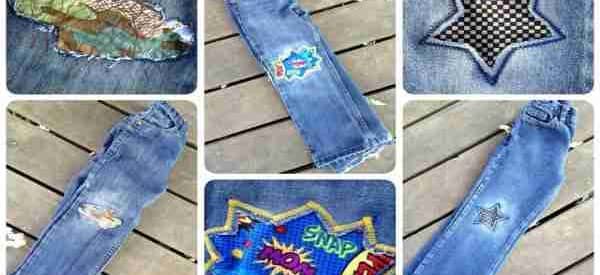 8. Heart Knee Patches
Read this cute heart knee patches tutorial for your little girl's leggings. This leggings mending and repurposing tutorial is super easy to follow. Adding a knee patch to your child's leggings is a great way to protect their knees while making them more attractive and colorful.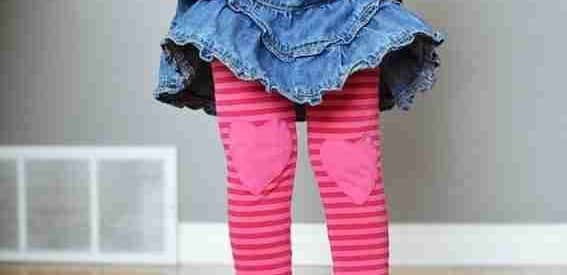 9. Mend With Me! Repair Kids Pants with Knee Patches
Mending clothing can extend the life of your kids' clothes, save your money, and help the earth! This video shows how you fix a kid's pants. SlowFashionMom put some patches on a pair of her son's jeans with old denim scraps and repaired her daughters' leggings with patches made from old ones.
10. Fun Patches for Boys
Check out these 12 fun patches for boy's pants ideas.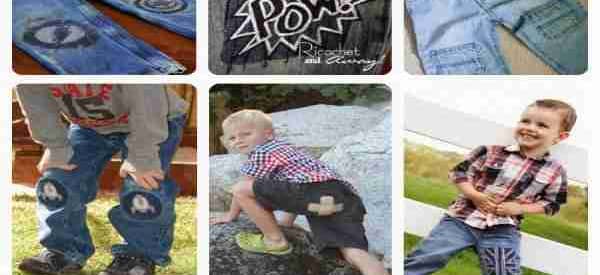 11. Custom DIY Iron-on Patches for Jeans
This tutorial shows the different creative ways to put iron-on patches on your kid's jeans. Iron-on patches are great for fixing holes in jean's knees or preventing holes in your kid's jeans.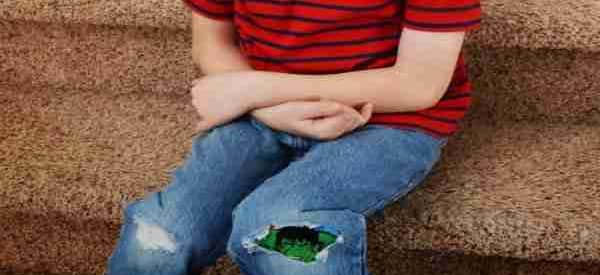 12. Decorate Kids Old Jeans With Iraj / Mom and Daughter DIY / Sew Cute Girls
This video is a quick DIY. What is excellent in this video is that this gives you ideas on how a mom and kids can have fun together by doing a simple creative DIY. This offers your kids opportunities to learn, explore and develop their creativity. This DIY won't take a lot of your time, but your little one will surely enjoy this.
Conclusion
As you embark on your journey of creative patching, remember that each repair is a stitch in time, not just saving jeans but weaving a tapestry of creativity, resilience, and shared moments that will be cherished for years to come. Happy patching!